It's 'true blue' this autumn with high-performance kit for women
At ASICS, women's running shoes are designed entirely separately from the men's counterparts - the muscular-skeletal make-up of a typical female athlete is brought into consideration by the research and development team to ensure that differences are accounted for when designing the shoe from the ground up. It's a pretty ground-breaking approach that sets ASICS apart, just one reason why the Japanese brand enjoys a reputation for pouring abundant resources into the science of its materials and not just its look and feel.

So its no surprise to learn that its womenswear collection for autumn boasts equally impressive credentials - high-performance, breathable, non-chafe fabrics feel light and ultra-soft against the skin, yet are robust enough to still look fresh and new despite frequent washing. I say this looking at my items from last season that were washed at least 3 times a week - still looking, fly, ASICS, just like the runners who wear them on their morning runs.

Pictured here and as modeled by four fabulous FrontRunner women in the UAE, the Ventilate top is designed by the ASICS Institute of Sport Science in Japan. It applies strategic body-mapping technology to create ventilation zones where the human body sweats most. It's teamed here with the Ventilate 2 in 1 3 shorts, which is constructed with maximum breathability in mind. And the icy and midnight blues combo ensures you'll look cool even while working up a sweat on the track.
written by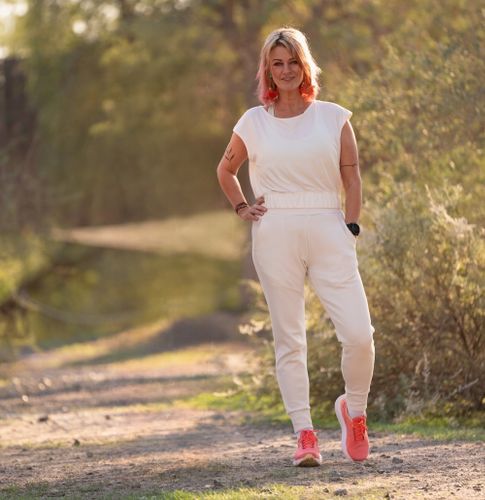 Jola Chudy
Communications & Media Consultant from Dubai



Coach: Lee Harris - Running. Rory Buck - Triathlon
My Disciplines