UTMB - the trail running festival of superlatives. And I am right in the middle of it. There were wonderful encounters and dreamlike landscapes, excitement, euphoria, but also thoughtful and sad moments as well as the utmost effort, thoughts of failure and once again the experience that boundaries can be pushed, that you can always go a little further than you think.
That's quite a lot for a long weekend, and so it's not easy for me to put it all into words.

I am registered for the CCC: 101 kilometers with 6100 meters of altitude. I have a lot of respect. Recently, I've been out in the mountains a lot - but this is a completely different dimension. So long, so high, so much can happen. Full of anticipation and at the same time very nervous, I pack up my equipment, and several days before my race we set off. Two of the very long distances of the UTMB have already started, the PTL (300 km with 26,000 vertical meters) and the TDS (145 km with 9100 vertical meters). In the morning before the departure the bad news: At the TDS, a very technical race, there was an accident during the night, a runner had to be rescued by helicopter, the race was stopped for all runners behind. A little later, the organizer confirmed the worst: The Czech runner died.
I am thinking a lot about what this tragic accident means, for the whole event, but also for me personally. The organizer decides that the races of the UTMB will continue, and I also decide to start. Before the races there are moments of silence to honor the runner. His death is constantly coming up in our conversations. I think about him and his accident a lot these days in Chamonix. No, we didn't just get over what happened there. Nevertheless, we continue to run.
I spend the day before my race in Chamonix, soaking up the atmosphere of a town full of trail runners. I pick up my race number. My vaccination certificate is checked, of course masks are compulsory. A small lunch, then my husband and I go to the finish arch. THE finish arch, already seen on countless pictures in the last years... We wait for Juliane and Christian, who are already on the course today and run 56 kilometers with 3500 meters of altitude at the OCC. Both come so radiantly to the finish that I hope a little more to make it to this finish line on Saturday morning.
Dinner, a good night beer, I pack the backpack, check everything again and again. At 4:50 on Friday morning my alarm clock rings. I would rather not have needed it, as so often before such races I have not slept very much. Anyway, here we go, finally! A coffee, a croissant. In Chamonix I board a bus that takes me through the Mont Blanc Tunnel to Courmayeur in the Italian Aosta Valley. Between 9 and 10 o'clock, every 15 minutes a part of the 2000 starters is sent out on the course, it's my turn at 9:30. Did I mention that I'm excited? Then, finally! Vangelis, we clap, we walk, we run.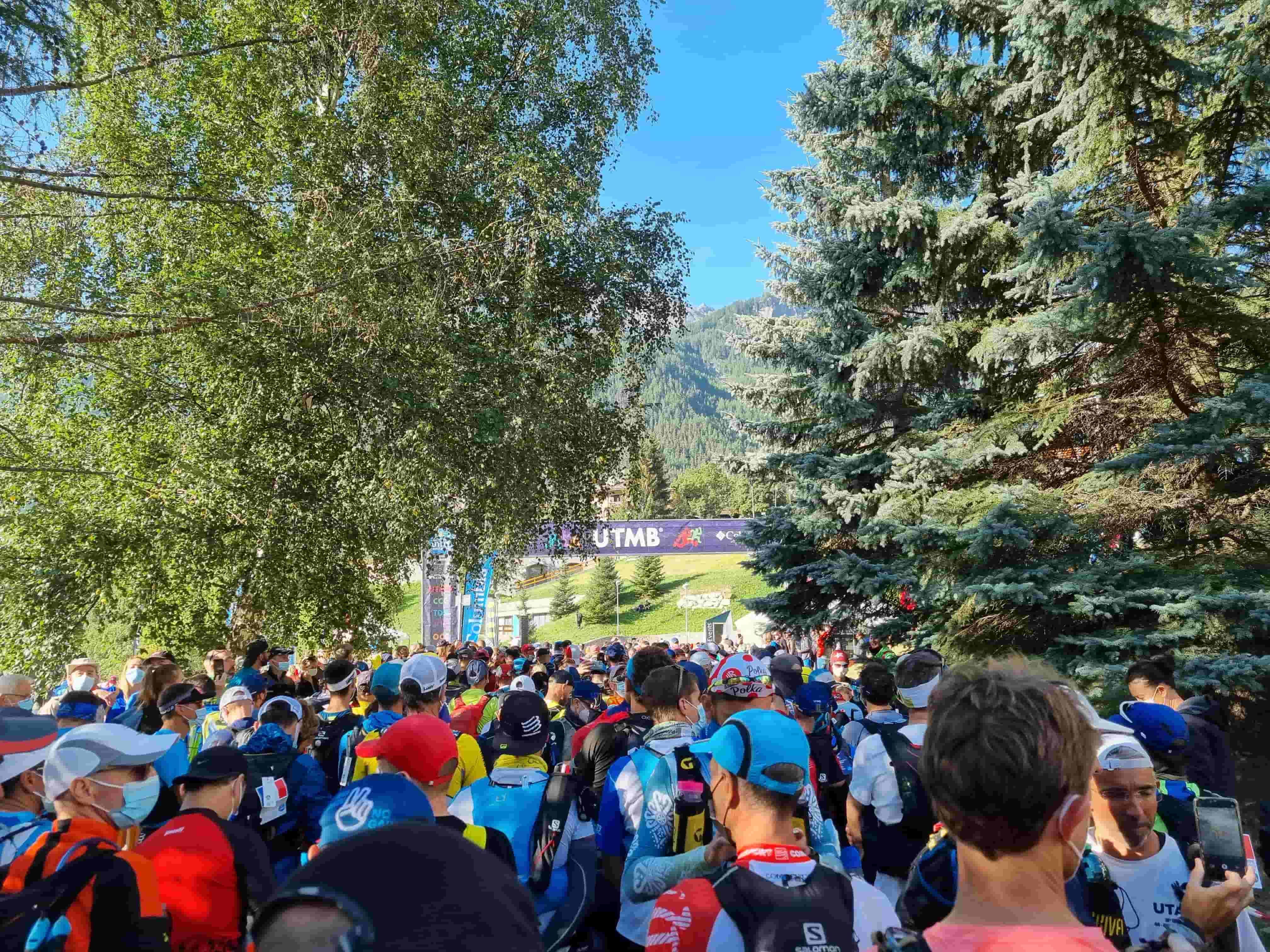 The hardest climb with a good 1300 meters of altitude at a stretch is right in front of us at the beginning. It goes up and up and up. The landscape becomes more beautiful, the views more exciting, the sun burns. The climb takes no end, this is an experience I will have a few more times in the next many hours. It doesn´t matter, I have a lot of time. Today for me the time is not important at all, it is all about somehow reaching the finish line in Chamonix.
At some point I reach the Tête de la Tronche (2584m). I look around, I'm happy, and then there is the downhill to the Rifugio Bertone with the first checkpoint. Mask on, disinfect hands, drink Coke. I take two salt crackers and march on. In constant ups and downs, the trail now stretches through a wonderful landscape. As soon as it goes uphill, I march to save strength, flat passages and downhill I run.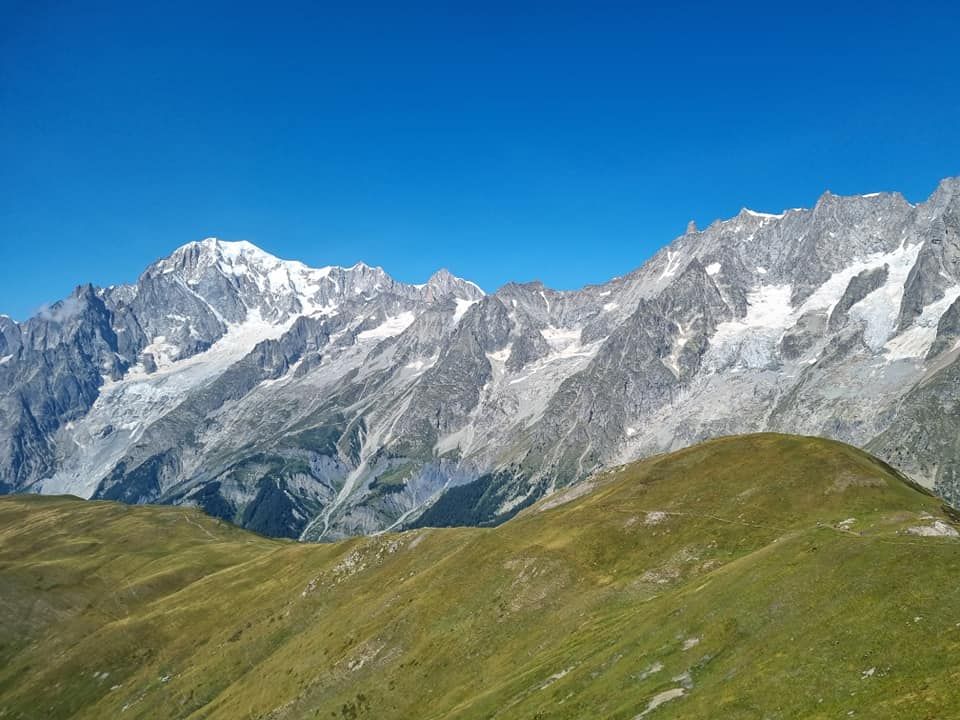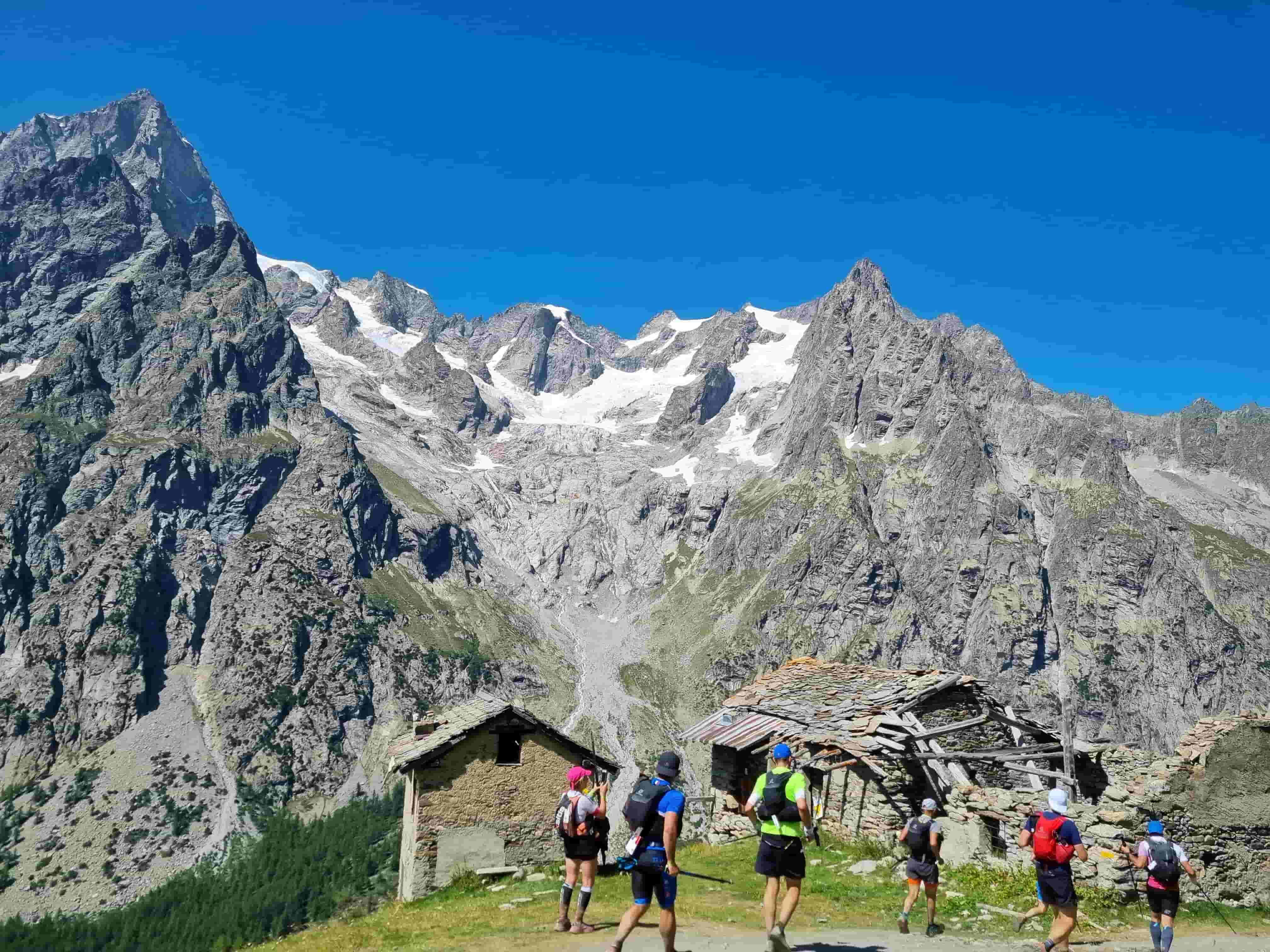 At the Rifugio Bonatti at kilometer 21 I fill up my water bottles and eat a handful of nuts. At the next checkpoint, at kilometer 26, there is soup, wonderful, something salty feels good. And hopefully it gives me enough power for the now following ascent to the Grand Col Ferret. On this pass at an altitude of 2500 meters, we cross the border between Italy and Switzerland. It is hard, it takes quite a while to hike up there, but then it finally comes, the long downhill. Wonderful, I love this. I'm also happy that at the next checkpoint in La Fouly I've already done 40 kilometers.
When I leave this checkpoint, I think to myself that the next 14 kilometers won't be that bad, it's downhill most of the time and then only a small climb to the checkpoint in Champex-Lac where I am going to meet Pascal, my husband. Big mistake, it is on these 14 kilometers that I get quite a crisis. On the downhill everything is fine. We run through a village, cross a road, run into the forest and - uphill. Steeper than I thought. Longer than I thought. It's harder than I thought. I feel sick, I can't go on. I drag myself up, there is no end to it. I feel sick and dizzy. It is getting dark. Shit. What do I do now? At the checkpoint there is Pascal with the car. I could sit in the car, go to the hotel, take a shower, sleep. In a warm bed. I'm cold. I feel sick. I feel dizzy.
Finally, when I already started thinking, that this must be a really bad nightmare, I hear the sounds that indicate I'm about to reach the checkpoint. I stagger more than I run into the tent. It is loud, crowded, full of runners and their friends and families. Where am I, who am I and where is Pascal? He stands almost directly in front of me and waves his hands. I mumble that I feel like crap and go to get something to eat. Runners eat chips, pasta, huge portions of everything here - my stomach turns. I get some broth, realize that's this is not enough, so I add some rice. I don't feel like eating at all, but know I have to eat something if I'm going to run right back into night.
I sit here for a long time, more than an hour in total. It takes me a long time to eat the soup with rice and some salt crackers. I look at the profile of the remaining course. Three more peaks up and back down. I feel hopeless. Pascal explains to me that I will be annoyed for weeks without end and will annoy him for weeks without end if I give up now. He is right. I put on leg warmers, two jackets, gloves, and say with some determination, "I'm going on!"
Through the village we walk together until Pascal turns off at the parking lot. Then I walk on alone, off into the black night. What follows is a steep ascend. Again, I feel a little shaky at some point, eat a bar, don´t feel well afterwards. No matter, onward! It is a little demoralizing to see the headlamps of the other runners, steep and still far uphill. Sometimes their light mixes with the stars, sometimes I have the feeling that I still have to march up to the sky today. On the following downhill I overtake again some of those who have overtaken me uphill. We are playing this game a few times this night.
Down, down, down, it goes well, it goes reasonably fast in the light of my headlamp. Then I reach the municipality of Trento and with it the checkpoint at kilometer 70. I take some soup, Iso, Coke and go out again, now very determined. 11 kilometers to the next checkpoint, some 900 meters up, but afterwards I can run down again. And anyway, there are only 30 kilometers left!
I reach Vallorcine, the second last checkpoint, from now on it's only about 20 kilometers. I can do that! I eat a few crackers, go to the toilet, drink something, fill up the bottles and get back on the road without a major break. I want to keep going, I want to arrive! The last climb is steep. It is really steep. It's getting light, I can turn off my headlamp. The climb remains - steep. Evereybody around me is suffering as well, you can tell from their faces and the sounds they make.
The climb is not only steep, but also endless. At a certain point, I feel like yelling that I think mountains suck, really suck. Not true, as I realize a little later, when the rising sun wraps everything here in a warm light and I can recognize the incredible beauty of this landscape despite my fatigue and exhaustion. I take the time to take photos.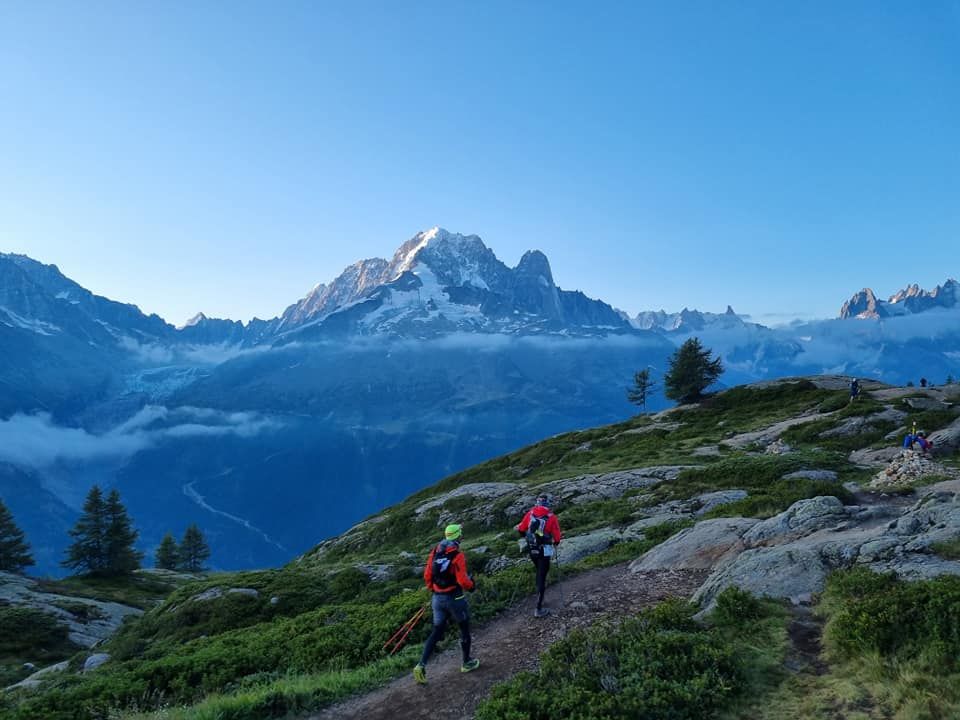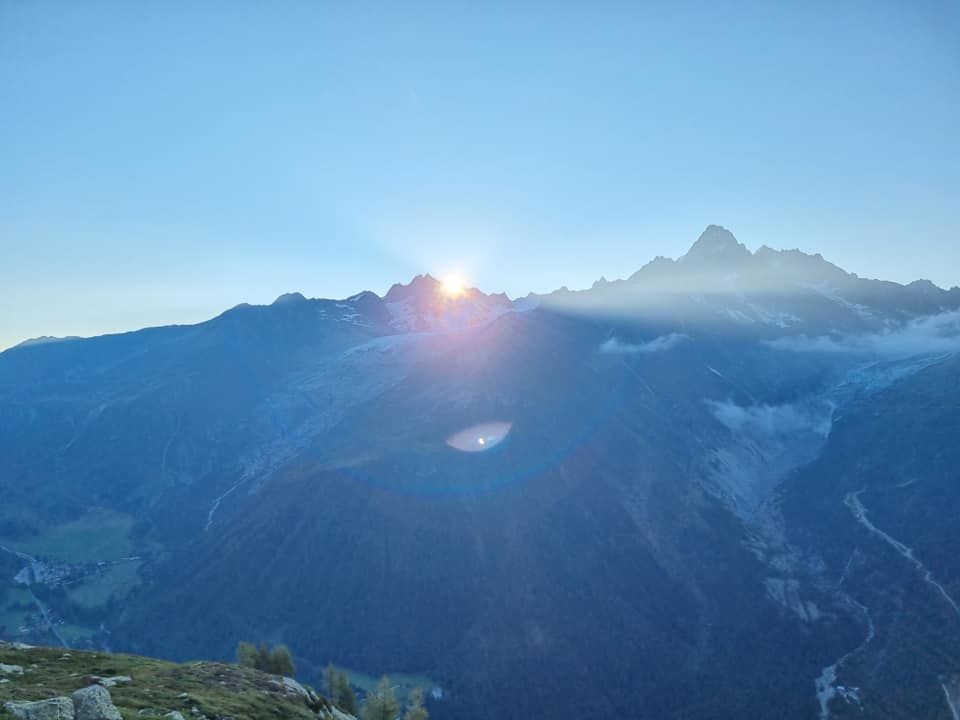 The last kilometers before the last checkpoint are technical, partly blocked and I'm too knocked out to run fast. In a mix of hiking and slow and careful running I get further. It drags. Then finally, another small climb, at the top we see the aid station, together with a French runner we curse that it goes up again. But then we are there. From now on it is all downhill, all the way to Chamonix. Downhill to the longed-for finish. I will finish this race!
And off we go. I start running, surprised that my legs are still ok with it. I hang on to a British runner who quickly tackles the downhill through the forest, we overtake numerous runners on these last kilometers, it feels so incredibly good that we are approaching the finish. More and more people come towards us from below and cheer us on. Oh wow, I'm about to make it. Tears shoot into my eyes.
The forest spits us out, over a bridge (with stairs, which I think, is really mean!) we cross a wide road, then we enter the town. People are clapping, cheering, shouting, cars honking. I have goose bumps, tears are coming again. This was so hard, but now I'm running through the streets of Chamonix! I see Pascal, who runs a few meters with me, then cuts off to the finish. I enjoy every single meter, emotions swirl in my head, I'm almost there, I'm almost there. Then I see the finish line. Tears, laughter, running, arms up, and then I'm there. At the finish line. I have made it. I am tired. I am incredibly relieved and proud and happy.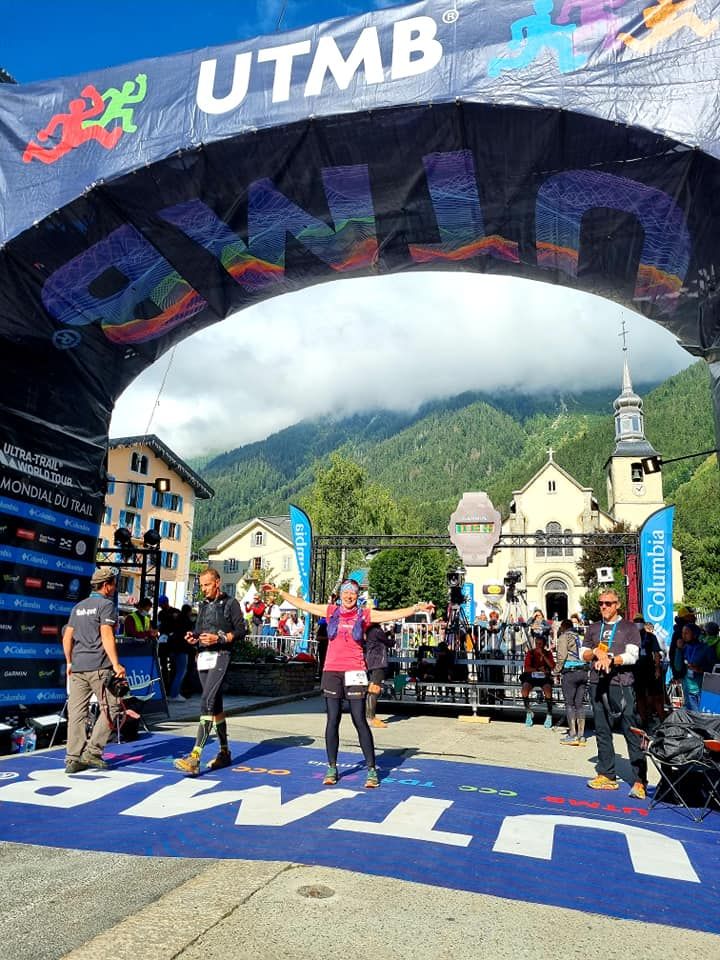 I spend the rest of the day alternating between eating and sleeping. I can eat a burger and fries at 3 p.m. and still have a three-course meal in the evening. I know that now. The next day we take the cable car up to the Aiguille du Midi at a good 3800 meters. I marvel at this wonderful mountain landscape once again from above I have sore muscles and am tired, otherwise I feel amazingly well.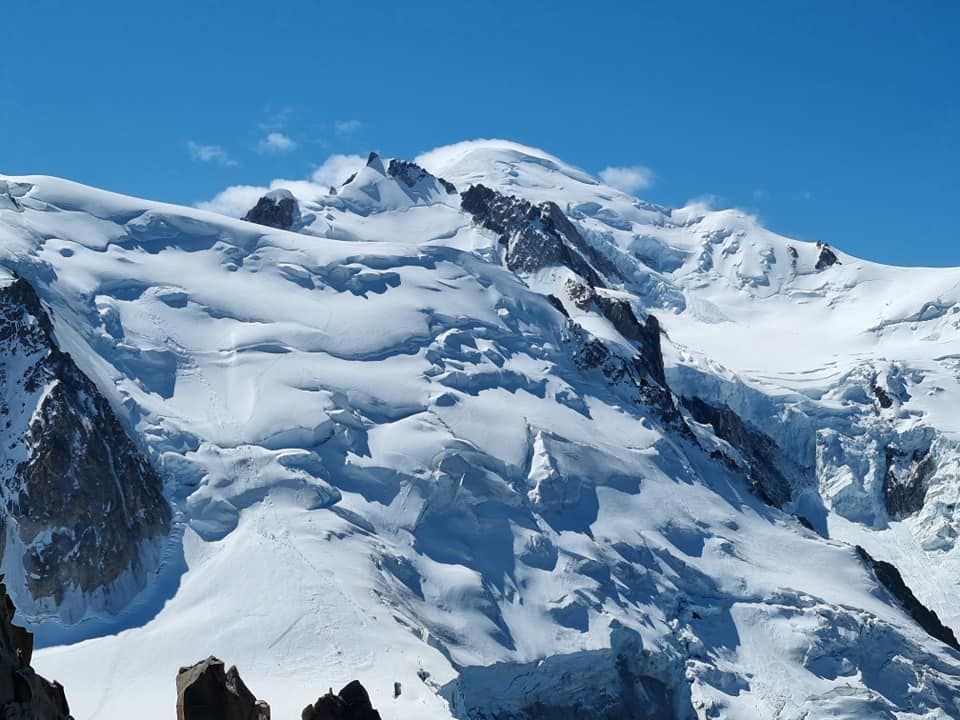 While I enjoy doing nothing up here, further down runners are still fighting their way to the finish line, running the UTMB with its 170 kilometers. What an achievement, I am full of admiration! By the way, the elite runners were faster over 170 kilometers than I was over 100 kilometers. And while Pascal was waiting for me at the checkpoint in Champex-Lac at kilometer 54, he could see on a screen how the first 100-kilometer finishers reached the finish line. Awesome! Because of the cold at altitude at night due to the icy wind, hundreds of starters dropped out of the UTMB and the CCC. This can be a very good and wise decision. I admire everyone who dared to start.
It is now two weeks after this long, long journey – I am still very grateful, happy and… in the mood for my next adventure!

erstellt von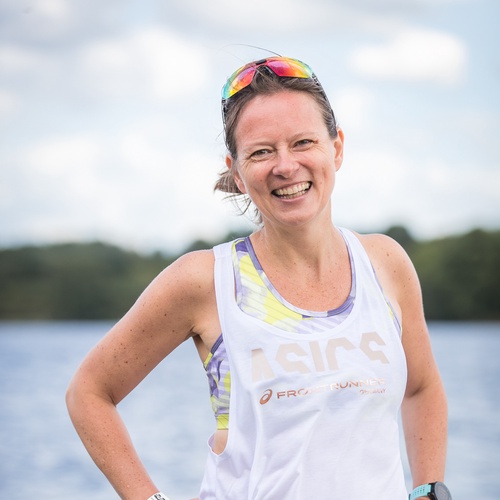 Andrea Löw
Historikerin von München

Altersklasse: W 50


Meine Disziplinen