This post will focus on etiquette in the world of sports, although it should not be taken too seriously. However, adopting these guidelines will certainly make our training sessions more enjoyable.
1. Do not litter the environment!
Do not throw gel wrappers, snacks, wrappers, or anything else on the side of the road. If you tried to throw it into a trash can and missed it, please pick it up.
2. Return greetings,
If a runner or cyclist greets you, wave back, even if you're not sure what they want from you. On the other hand, don't insist on waving to a runner in the middle of an interval.
3. Be punctual,
Make sure to arrive at group meetings on time and ready. Don't keep everyone waiting while you reset your watch, look for your sunglasses, or find your gels.
4. Respect the group,
If you join a group, take the time to learn the customs, stay behind, and do what everyone else does. Suggestions for improvement will be welcomed after a month of consistently attending group training sessions.
5. Keep to the right,
Always stick to the right side. Keeping to the right allows others to overtake you safely. On the other hand, when you're making a pass, without rushing, it's okay for the person you want to overtake to slow down slightly. It's not a reason to yell at them.
6. Don't "show off",
If you're leading the peloton (a group of cyclists/runners), it's not the time to prove to everyone that you're the park champion. Please maintain the pace that was set before you took the lead.
7. Showers,
In short, the public shower is not your private bathroom.
8. Don't sneak into finish line photos,
Let's be honest, most of us are not really competing for a spot on the podium, and all we have left at the end of the race is a photo from the finish line. If you couldn't overtake someone in the last 50 meters, let them cross the finish line alone for a good photo. At the same time, clear the finish line for those behind you.
9. Smile, it's just sports. :-)
You're  welcome to my Instagram
נכתב על ידי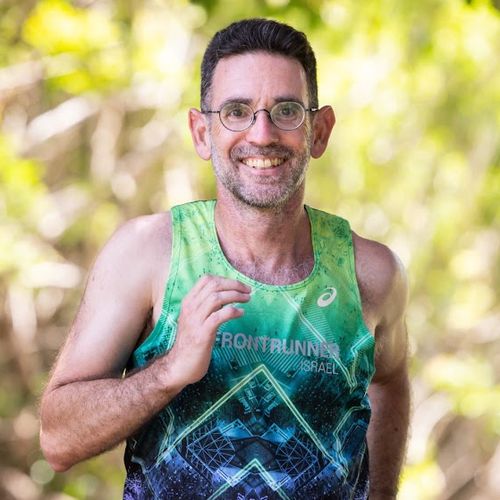 חנן יוסף Hanan Joseph
ראש צוות פיתוח תוכנה ומאמן ריצה from Ganey Tikva - ISRAEL


מועדון: Tri Hard
מאמן: גל תיכון
הדיסציפלינות שלי