We are halfway through the year 2023 and I thought it's time to analyze my sports progress. In this article, I will review my goals and share the important sports moments from the first half of the year. Then, I'll also talk about my plans for the second half of 2023. My calendar is packed, and I believe it's going to be quite spectacular!
Limba română / Romanian: Click aici pentru versiunea în limba română a acestui articol
****************
UPDATE (July 3rd): A friend suggested that I take a look at some stats and share them with you. I found them interesting. So, let's see how things stand when we compare the distances covered during training with those in official competitions:
Running: I covered 1075km during training, compared to 95km run in competitions. 
Swimming: I recorded 136km during pool training; I had a single competition, in which I swam... 500m (yes, you read it right: that's half a kilometer) 
To this, I would also add that I spent 88 hours dedicated to strength training in the gym. 
Reference period: January 1st - June 30th. In addition, I should emphasize that for a month in this period, I was forbidden to run or swim, as I was in a recovery phase after an injury. Also, in the second half of the season, due to the injury, I decided to quit half-marathons and only participate in "short" distance races of 10km. As a result, I also adjusted the volume of kilometers covered during training, running less than I initially planned.
****************

My goals for 2023: What I set out at the end of 2022 and where I am now

The main purpose of my participation in competitions is to have fun, to enjoy strong sensations and to learn from these experiences. However, I'm also interested in performance: I want to constantly evolve. Therefore, I usually set very specific, very ambitious, but achievable goals. These form the basis of my annual sports activities planning. See here for more details on how I do my planning.
For 2023, I set the following goals:
(easy) To finish three of the world's major marathons.
42 km road marathons are my favorites, representing the ultimate challenge. I do not wish to participate in any marathon, but seek the most memorable ones. I have a long wish list in this regard. For this year, I chose Barcelona, Frankfurt, and Valencia because they are very fast (especially the last two), very popular, and probably well organized - the essential ingredient for an exceptional experience. 
Current status:

I've already completed the Barcelona Marathon.

(very hard) To get under 3 hours in a 42 km road marathon - that is, any of the three mentioned above. It's very hard, but not impossible. Last year, I achieved a time of 3h17m at the Berlin Marathon, the fastest in the world, but I had problems during the race (muscle cramps) and I was not in top form. 
Current status: I did not succeed in Barcelona because of an injury. But I still have two opportunities: in Frankfurt and Valencia.
(easy) To make my first steps towards multi-sport competitions, that is, not just athletics, but competitions that also include swimming or cycling. In the long term, I want to become a triathlete. So, I intended to participate at least in an aquathlon (swimming and running) or the relay event of a triathlon (that is, to do running/swimming tests as a team). 
Current status: Achieved, by participating in the Romanian Cup at Aquathlon, as I tell below (bonus: I came out in first place!)
(medium) To get under 1h:30m in the half marathon. In 2022, I set a personal record of 1h:30m at the half marathon. 
Current status: Accomplished, during the Barcelona marathon. Halfway through the marathon (21.1km), I recorded a time of 1h:29m:53s
(medium) To get 40 minutes in 10km races, regularly. That is, this should be my standard time at 10km races. In 2022, I set a personal record of 00h:41m at 10km. 
Current status: Achieved, at the Bucharest Half Marathon. And I obtained similar times at other competitions this year. New goal: to get a time under 40 minutes at 10km :)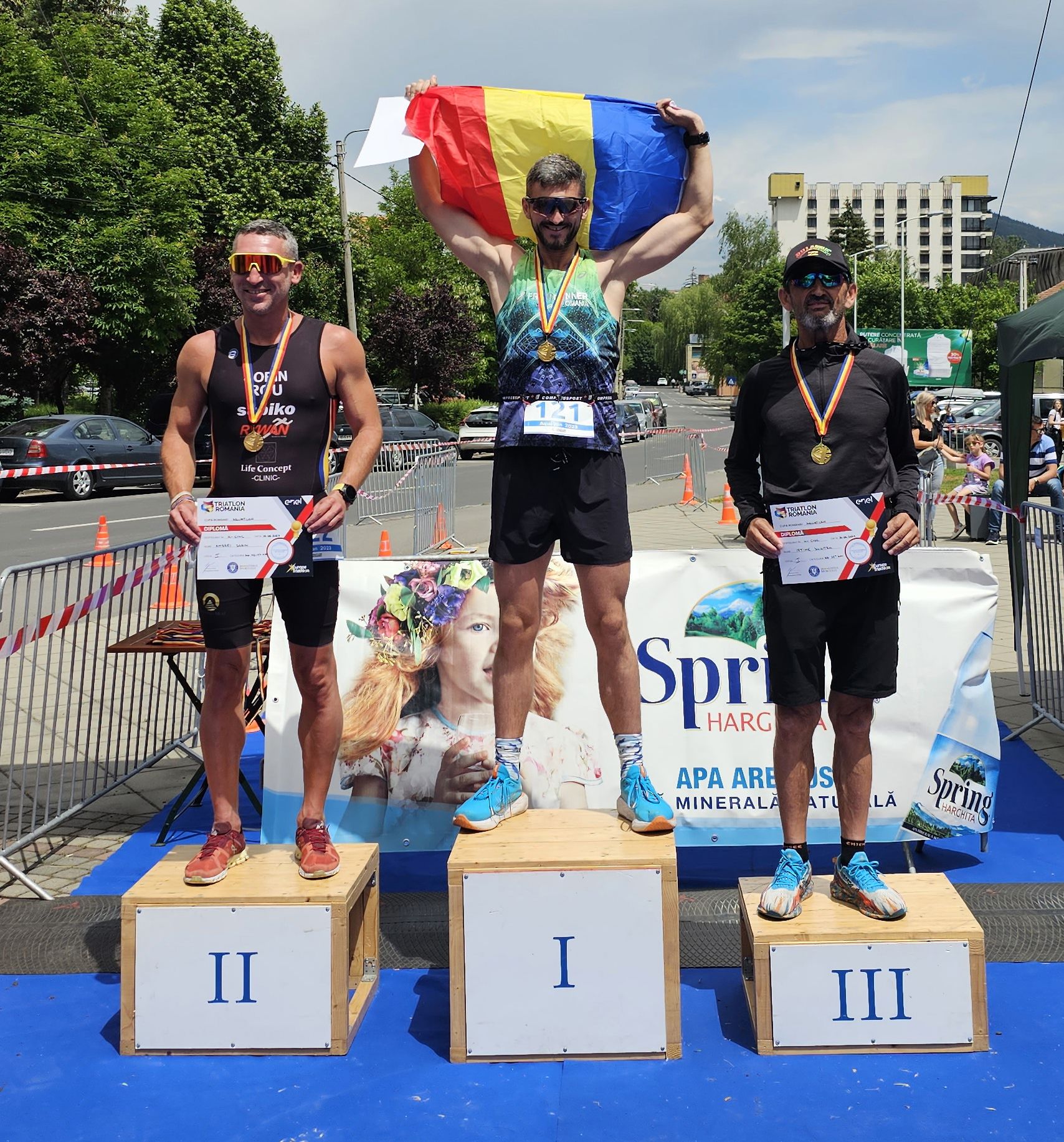 Retrospective of sports activities in the first half of 2023
At the end of 2022, I had already registered for the main competitions (42km marathons) and a series of secondary competitions (half-marathons) that were to take place in the first part of 2023, immediately after the first marathon. Due to an injury during the Barcelona marathon, I had to reschedule everything. See details below.
To see my full competition calendar, along with the times recorded at each competition, visit my ASICS FrontRunner profile page.
Next, I will list the most important sports moments of 2023, in chronological order:
January 9: I started preparation period for the Barcelona Marathon. I planned 10 weeks of intense preparation. I already had good form, because I hadn't had a break from running since April 2022 when I returned after a septum deviation surgery. But I needed more volume (more kilometers run). See the training calendar from that period here.
January 28: I participated in the Gerar Cross Bucharest, a local race held in Bucharest, over a distance of 11 km, under difficult conditions, with ice and snow. I took part out of curiosity and because I needed a dose of adrenaline. The time obtained was better than I expected, given the weather conditions, running at an average pace of 4:10 min/km. 
February 13-20. Unfortunately, during this period, I pushed myself too hard. I overdid it with the training, made some mistakes during workouts, and suffered from tendonitis. I started treatment and took a short break to alleviate the pain; but then I continued with the training.
February 27. I conducted a 30km test run in preparation for the Barcelona Marathon. Despite the calf pains, I managed to complete the training successfully. 
March 9-16: I continued treatment and recovery sessions to alleviate the tendonitis. The goal was to recover in time to be able to participate in the Barcelona marathon. I consulted orthopedic and recovery doctors, who gave me temporary treatment and validated that I would complete the marathon. But they imposed on me that after this competition I should take a few weeks break from running for the definitive treatment of tendonitis. 
March 19. The Barcelona Marathon: one of the most famous marathons in the world. For me, Barcelona is the second favorite city, after New York, and I wanted to experience the marathon here, not just visit it as a tourist. I trained intensively and came with the goal of finishing under 3 hours. I was determined to participate, despite the tendonitis I hadn't completely gotten rid of. I still felt pain when running, especially when accelerating and braking. The first part of the marathon went excellent, according to the strategy of obtaining a time under 3 hours. However, things didn't go as hoped. I got seriously injured in the last part of the race, but I managed to finish with a respectable time of 3 hours and 27 minutes, given the circumstances. 

Here's what happened: About 4-5 kilometers before the finish line, I felt something crack in the already vulnerable calf area - as if something broke there. A horrifying pain followed. I later found out it was a fibula fracture. I ran the last kilometers limping, tortured by the intense pain in that area. However, I did not give up. I realized I could no longer achieve a personal record, but I kept thinking about all those 10 hard weeks of preparation. I decided that I didn't go through them just to go home without the finisher's medal. I even sprinted on the last 200 meters, at the finish - I can't explain how. Immediately after the finish and in the following weeks, I walked limping. This was followed by a sports break.
March 20 - April 16. This was the most difficult period of this year: I was forced to take a total break from running and swimming. I attended numerous physiotherapy and kinesiotherapy sessions. However, I was allowed to perform some strength training, but without involving my legs in exercises.
March 20: It was a special moment for me when I officially joined the ASICS FrontRunner Romania team. It is an honor to be part of this team and to be an ASICS ambassador!
March 21: I made adjustments to my spring season calendar. Due to the injury, I missed some important races, including the National Aquathlon Championship. I decided to change all 21 km races to 10 km, as I was no longer allowed to participate in long-distance races for the next 3 months. Also, I received the recommendation to avoid interval training for a longer period.
April 17: I returned to running, a moment that brought me the greatest joy! The first runs were difficult, after such a long rest. However, I was able to recover quite quickly and returned to a good form.
April 23: I participated in the 10 km race at the WizzAir Bucharest Half-Marathon by Constantina Diță. I ran just for fun, not caring about time. I filmed and recorded the experience throughout the race. The weather was perfect, and the route through the center of Bucharest was superb. I had an average pace of 4:30 min/km. And by the way, I still didn't get to do the montage. See images from WizzAir Half-Marathon.
April 29: I ran 10 km at the "Sand Marathon" / "Maratonul Nisipului" in Constanța, the city of my childhood and adolescence. I was very close to reaching the podium - 4th place in my age category. See images from the "Sand Marathon" / "Maratonul Nisipului".
May 14: I participated in the 10 km race at the Bucharest Half Marathon. I managed to get my best personal time at this distance, officially recording 40 minutes and 35 seconds. I ran alongside my friend and former coach from 2022, Bogdan Ofițeru. It was an unexpectedly great race! Especially considering that I had just returned from an injury and hadn't done any specific speed training yet (intervals). See images from Bucharest Half-Marathon.
June 10: I won 1st place at the Romanian Aquathlon Cup, in Miercurea Ciuc, in the overall standings. It was a surprise for me! And to make this day even more memorable, my father joined on the podium in the general classification - an impressive performance. See images from the award ceremony.
June 17: I participated in the Bucharest 10K Grand Prix, a competition whose technical partner was ASICS. It was a fast 10km race through the center of Bucharest, through rain and puddles. With a time of 41 minutes, I ranked 78th in the general classification, out of a total of 1660 participants. I am very pleased with the result obtained, especially considering that some of the best professional athletes in Romania were among the competitors. See images from Bucharest 10K Grand Prix.
June 22-25: I had the privilege of traveling to Sofia with the ASICS FrontRunner Bulgaria team. It was an unforgettable experience, where I had the opportunity to socialize with other passionate athletes, have photo shoots, run together, and have fun at a party.
Training Session Summary

This is the distribution of my training in the last period, specifically in the first half of the year (January 1 - June 30, 2023):


99 running workouts, of which 49 on road and trail, 31 on the treadmill, and 19 on the track.
60 swimming workouts, conducted exclusively in the pool. I haven't yet had the opportunity to train in open waters this year.
65 strength workouts, of which 61 at the gym and 4 at home.
6 cycling workouts, of which 4 on the road and 2 on the trainer.
10 physiotherapy sessions
I took part in 7 official competitions, including 6 athletics and 1 aquathlon.

It should be mentioned that during this period I suffered an injury that kept me away from running, swimming, and cycling for a month.
Plans for the second half of the year


I will now review my sporting plans for the second half of the year, a period full of exciting competitions, rigorous training, and memorable adventures.
July 9: My birthday coincides with the ASICS London 10K. My plan is to celebrate my 38 years with a memorable run in the heart of London. It would be ideal to finish the race in 38 minutes, one minute for each year. However, this is a considerable challenge, especially anticipating high temperatures. I'll see on the spot! Maybe a similar performance will be more achievable in about 3 years, when I can afford a more accessible pace... :)

July 29: I participate at Cluj Triathlon, where I will compete at relay, at trail running and open water swimming disciplines.
August 6: I compete in another triathlon, also relay, at GLS Sibiu; here I'll will focus only on swimming.
August 7: I start the training period for the Frankfurt Marathon, which will last 12 weeks.
August 19: I participate in a 21km trail competition, Haita Challenge, organized by a cousin of mine, in the north of the country.
August 24-27: I participate in the ASICS FrontRunner International Meeting in Budapest.
September 17: I participate in the Greenfield Băneasa Sports Festival Half Marathon, a local trail running competition near Bucharest.
September 23: I try to do my first triathlon at H3RO Constanța. In other words, it will be the first one where I will compete in all disciplines: swimming, cycling, and running.
October 1: I participate in the Timișoara Marathon in a relay team, alongside two colleagues from Bitdefender. Anima sana in corpore sano. In addition, this competition will be an opportunity to perform a 30km test run, as preparation for the Frankfurt Marathon.
October 8: I run 21km at the Sofia Marathon, where I will meet again with the FrontRunner team from Bulgaria.
October 15: I run "just" 10km at the Bucharest Marathon, avoiding a longer race due to the proximity of the Frankfurt Marathon.
October 29 - major event: I participate in the Frankfurt Marathon, hoping to finish the 42km in less than 3 hours. It is said that this marathon has the most spectacular finish of all the marathons in the world, taking place at the Festhalle.
November 19: I participate in the Garda Trentino Half Marathon in Italy, a road running competition, alongside colleagues from the ASICS FrontRunner team.
December 3 - major event: I participate in the Valencia Marathon, where I will try again to get a time under 3 hours for the 42km event.
I look forward to comparing these plans with the actual results at the end of the year, to see how well I managed to fulfill my goals.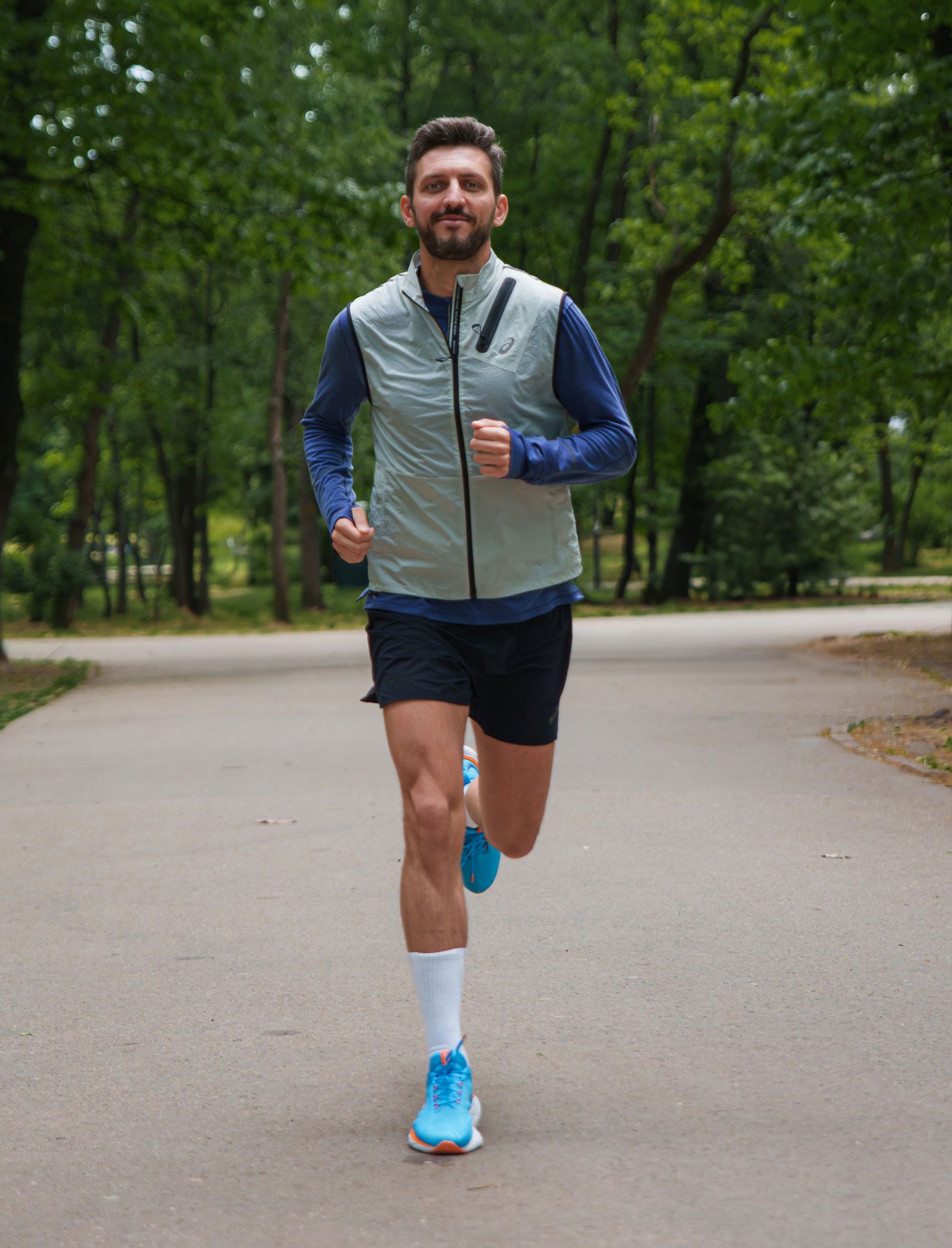 Let's stay connected!

I invite you to follow me on Instagram at @davidiftime. There we can interact and talk about running, competitions, and training. If you have questions or want to share your own experiences, don't hesitate to contact me. I'm always happy to interact with other sports enthusiasts.
Limba română / Romanian: Click aici pentru versiunea în limba română a acestui articol
scris de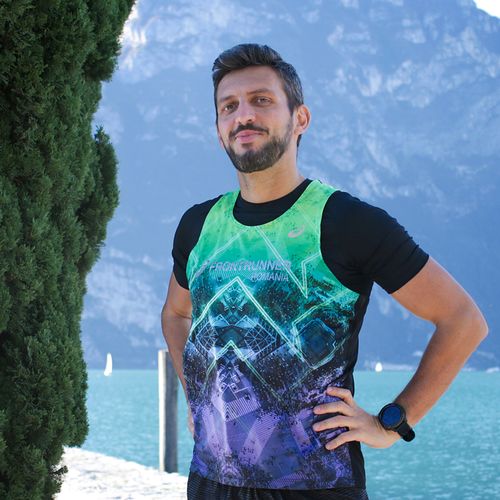 David Iftime
User Experience Manager de la Bucuresti

Grup de varsta: 35-39


Disciplinele mele