My journey in running and preparing Riyadh Marathon 2023
I started my running journey with @khobarrunning Crew a couple of months after I moved in Saudi Arabia in October 2021. I never considered myself a runner, my sports background was based on CrossFit, judo and gym, my running level was limited to a couple of short runs a week in the forest, accompanied by my dogs, during my 5 years living in France before moving to Al Khobar.
I clearly remember my first sunrise long run was 10k, I started scared, I apologized with my friend Mohammed Nana many times for being so slow, and I still remember the joy when I finished, it was a big achievement for me. That run made me desire to go for more. If I reached 10k I can run more km!
Perseverance, consistency, passion, the big support of the Crew in terms of motivation and advice were the core of a year of preparation. Every training session made me advance in a way I never expected. I noticed improvements after each running session. I didn't give up when my performances were not what I expected. I learned the importance of having a rest day. I listened my coach's precious tips, I learned so much from every KRC member and I tried to give my best during every session.
I signed up for Riyadh Half Marathon 2022. And it was my first Half Marathon! I remember that I talked and laugh during the whole course. Pure joy and satisfaction! That morning I participated to the "4k for fun" as well, running beside my daughter and my happiness was multiplied!
Summer arrived, summer ended. We came back to our regular running schedule. When it was time to decide about my training schedule, without any doubt I choose for the Marathon training! I said myself: "last year I tried Riyadh Half Marathon, this year I must try Riyadh Marathon 2023!".
I knew the preparation was not easy, a marathon is a mental journey before being a physical effort. Nothing is truer than this! So the adventure was about to start for me and my buddy Waleed, who decided to participate to Riyadh Marathon with me.
I followed all the training sessions prepared by my coach Ronald Rizk, he helped me to mix the running sessions with road bike training, I rode my first Century ride (road cycling ride of 100 km or more). As part of the training, I participated in 4 Half Marathon races in Bahrain and Jubail with excellent results and podium! In the other hand, I had to say no to some race I really wanted to do. I had my moments of fear and doubts, especially during the last sessions while my running plan included above 30k, in that moment I started to taste the "marathon flavour". I focused more on my diet, I did extra stretching sessions to recover as much as possible, I tried the gels during the last sessions…
There's an underrated aspect of preparing a marathon I need to mention here. The sacrifice of a marathon journey includes the family, the closest circle you live with. Any long-distance runner knows this, we need time for our long runs, and we take this time from the weekends. Moreover, after a long run we need time for recovering and resting. Sometimes it wasn't easy for me to find the right balance between my running schedule and my family. "You run too much" I often heard it at home. "I know, and I need to run more" was always my answer. Week after week, session after session, loading more km until the taper week, when I cut back my training volume. What a strange feeling I had during those days. I was afraid that too much rest could undo all my training right before my big race day. I was experiencing some feeling of emptiness, but I hold on, sticking to my coach suggestions. Finally, the day before the race arrived: Riyadh we are coming! Al Khobar-Riyadh what a trip full of excitement and joy!
The race day! I was ready, relaxed and very happy! I did the first loop (21k) with joy, the second loop started very good and I kept comfortably running despite the hills, the heat and the wind that started to make me feel tired. Suddenly a sense of "loneliness" took my mind for few km, it's something I struggle to describe. I was missing my Crew and their support, my buddy kept encouraging me saying "they are waiting for us at the finish line!". The last 6km I had cramps on my feet, I even cried. But I said myself "I can't fail now!" and I kept running until the finish line! The best feeling ever! "You are a marathoner!" my buddy exclaimed! Yes, I am a marathoner!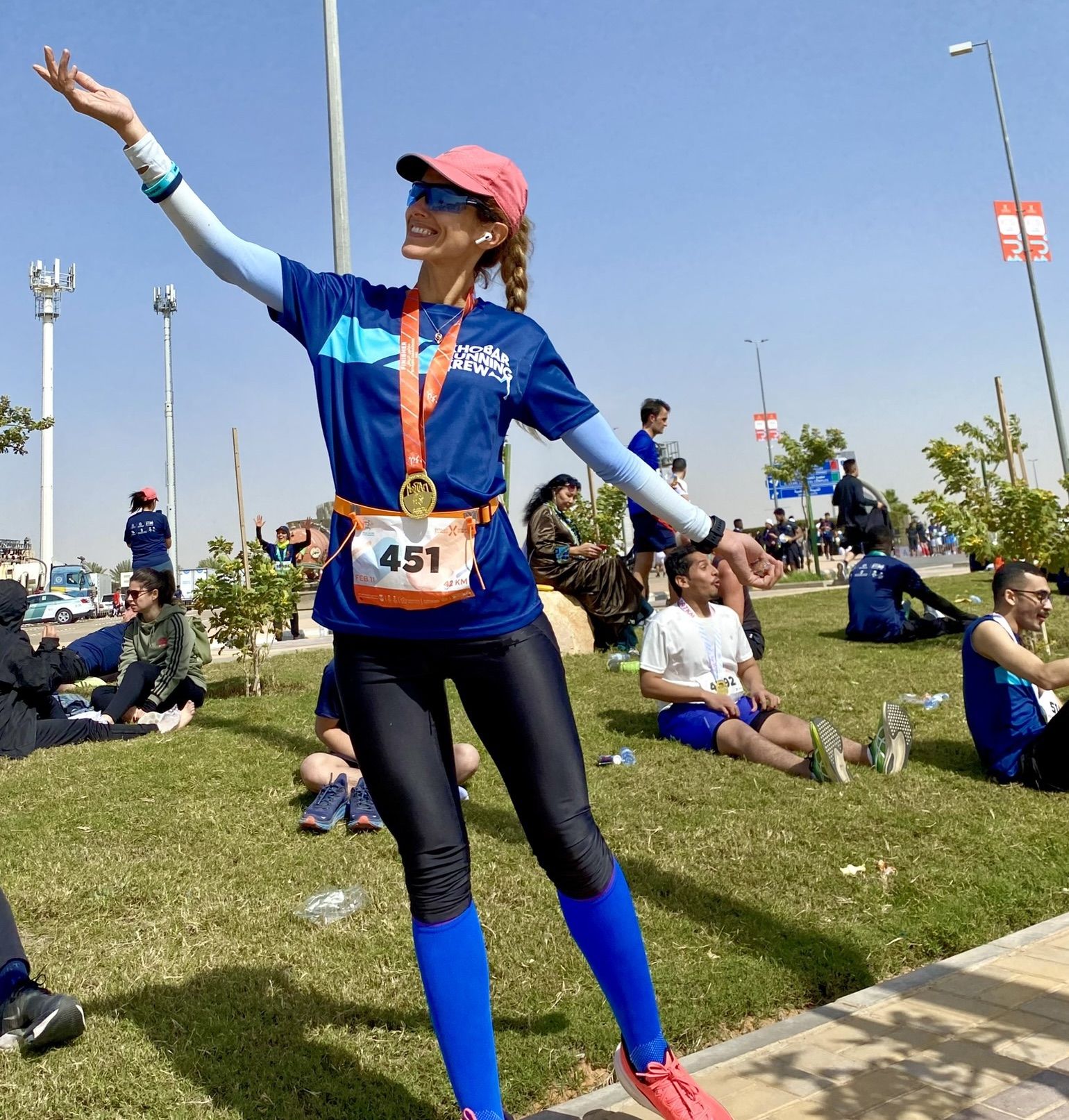 This is my Marathon journey. From 0 to 42.195 km of "Believe and Achieve" mindset, built during 12 weeks of training and tested at the race day. It was a beautiful journey that transformed my perception of life, an adventure that made me mentally and physically stronger, because there are no shortcuts in marathoning, so anyone who is a marathoner has worked hard.
Who am I after this journey? I am a woman with the sense of fatigue and time changed forever. Everything seems easy to me now and when I run, when I cycle, I enjoy that hour (or hours…) consciously, knowing that this moment lasts a flash and forever at the same time.
That's why I invite you all to try a marathon once. It's a journey of mind and body worth to be lived.
written by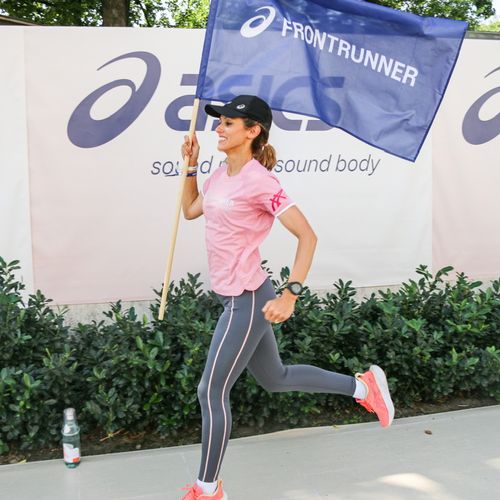 MY DISCIPLINES