Four Marathons, Four consecutive Months, Four different continents… a crazy birthday gift challenge for this passionate runner
What made them so special?

Running these marathons (Berlin in September; Cape Town in October; New York in November and Abu Dhabi in December of 2022) has taught me that; while earning those super medals, cool t-shirts and lovely goody bags is awesome and memorable; you can never place a price on making memories, Here are my memories, I hope reading about them inspires you to make some of your own.


1. The face of my family as they saw me along the road and at the finish line, running under the Brandenburg Gate in Berlin, Germany (a race where the greatest marathon runner of our time, Eliud Kipchoge, set his world record for running the fastest-ever marathon time at 2 hours and 1 minute and 9 seconds.

2. The awesome home experience shared with some close friends, as we ran in sight of the iconic Table Mountain and along the beautiful beaches of Cape Town, South Africa,
3. The phenomenal crowds and cheers as I hustled my way over the bridges and boroughs of New York City, USA.
4. The feeling of serenity and accomplishment as I ran past the Grand Mosque in Abu Dhabi, UAE.
These special memories shall forever be etched in my heart and mind, more than the runner's high I really, really felt each one at the end of each of these awesome races.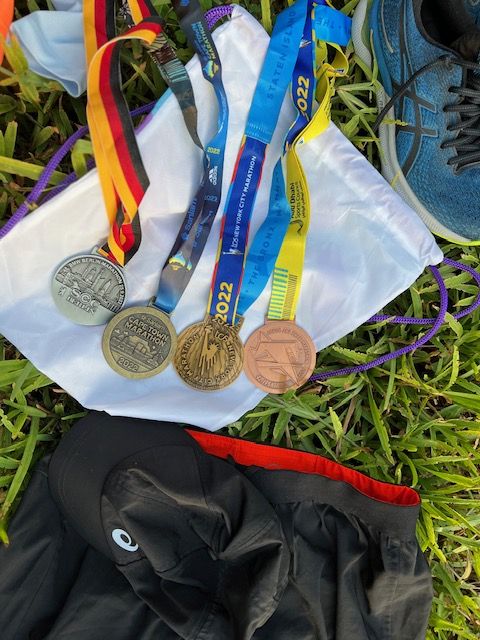 A moment of gratitude
Any half-decent runner, can run four marathons in four months, but I believe that it takes a lot to plan and to achieve it, more than just physical and mental ability.
I wish to share some insights from my 4x 4 marathon challenge that reflect my personal motto: "Maintain an attitude of gratitude, as we aspire to inspire"

1. Personal
My passion for running which helps with physical and mental wellbeing was important to establishing this challenge. I found it useful to share my goals and objectives with others as I trained, not to 'show off' but a means to be held accountable and strive to meet or even exceed expectations.
2. Physical
A well-regulated run training regime, a bit of cross training and strength exercises, together with a decent nutrition plan helped me stay healthy and avoid injuries.

3. Mental
A positive and focused mindset is important when pushing yourself to limits, especially when the going gets tough, or unexpected challenges come along and you want to quit.
4. Financial
Having the means, time and ability to travel, afford race bibs, accommodation can't be overlooked – I made sure I had money set aside for this endeavour.

5. Political
An ability to get visas and lottery race places, travel and ease of movement is not something I take for granted, and I am grateful for my good luck.

6. Social
My family, friends and colleagues who support and encourage me, even when the goals appear crazy. This includes a super supportive ASICS team and the local running communities.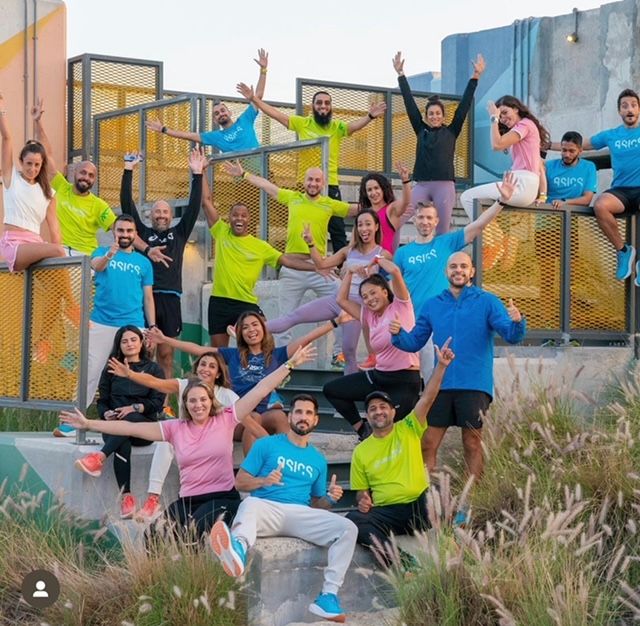 7. Spiritual
I am blessed and thankful to Allah for providing all of the above to enable me to achieve my goals.

So if you ever set yourself a Challenge or Goal, whether it is in sports or life; do put a plan in place, consider going through the above; and you will accomplish.
Remember not everyone will be able to tick all of the boxes, and if you are one of the very fortunate ones, then go for it, for you never know what tomorrow holds.
written by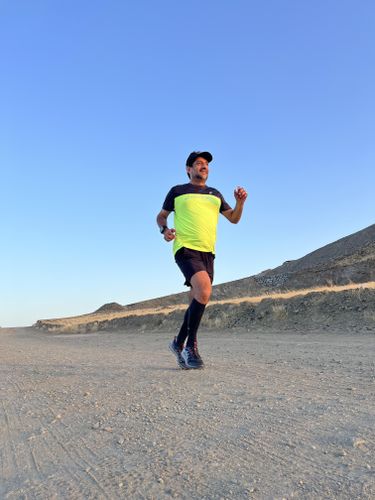 Suleman Mulla
Consultant from Jeddah

Age group: 50
Club: Jeddah Running Community

MY DISCIPLINES