As ASICS FrontRunner gets set to welcome 2023 members to its global team, here are my favourite things about being a runner
"People will forget what you said. People will forget what you did. But people will never forget how you made them feel." Mary Angelou.
This quote really resonates very well with me in relation to my running journey. Over the years I have been fortunate to run in many places, meet different people and the one thing that always sticks in my mind is the expression on their face, the warm hugs and kind words of friendship. It makes the experience of training, running and racing really worth the effort. A feeling of accomplishment and achievement drives me to continue running and supporting others on their running journey..
So how does running break down barriers and bring people together? The answer lies in its simplicity, global appeal and ability to get people together, all seeking to live a healthy lifestyle. Here are some of the main benefits of running – let me know if you can think of more!
Social barriers – running allows you to join groups and communities with fellow runners who may be a politician, an executive of a global multi-national company, teacher, technician, salesman, medical professional, accountant, dentist, entrepreneur, student, housewife or any other.

Cultural barriers – irrespective of your religious or political affiliation, when you gather to run, whether for fun or in a race, the running belief system is only to do your best, complete the race and enjoy the experience.
Time – making time for a run, whether in the morning, during the day or evening; hot or cold weather, a truly committed run will not let any of these factors affect you. Any time is a good time for a run.
Motivation – joining a running group or community helps you achieve a sense of commitment, with fellow runners motivating or inspiring you to keep going, helping with tips on running styles, form and somehow convincing you to sign up for a race.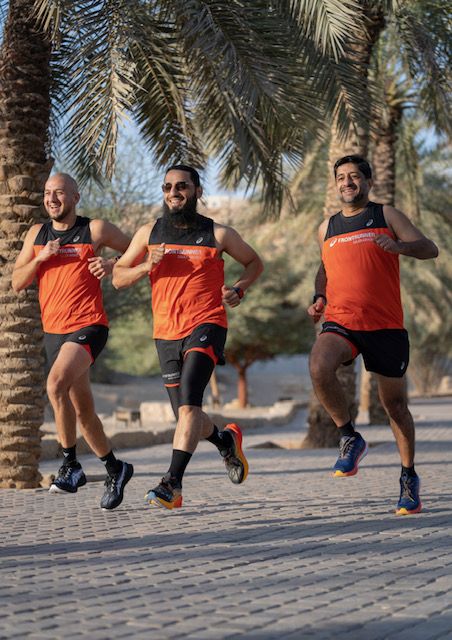 Body Image – as long as you get out there and move, jog or run.. you are a runner. Runners come in all shapes and sizes and there is no judgement when you join a group, with a healthy lifestyle driving you to keep moving.
Comfort zone – getting up very early or ensuring you on time with the evening group, the first challenge is stepping out the door. Running pushes you outside your comfort zone in ways you only know once you get going. This is so true whether on the road, on trail or just in the park.
Age – The dynamic mix of youth and experience within a running community lets everyone fit in comfortably. The young ones are eager to prove themselves and the elders to provide words of wisdom, stay the course and offer a broader perspective on wins and challenges.
Fitness – One of the key reasons and motivators to start running. Whether it's a stroll, targeting a fast 5km or 10km or whether you aiming to achieve a half or full marathon or even more, running makes you fit and healthy which is an end goal over and above any distance!
Mindfulness – Running provides time for relaxing the mind, enjoying the scenery and appreciating some of the beautiful places that you may not see otherwise. It is a great way to get away and clear the head, as they say. Anima Sana in Corpore Sano, or 'Sound Mind in a Sound Body.'
Inclusion and Diversity – There are very few sports or activities that allow for such an inclusive and diverse unit and group of people; as does running.
Commitment – There are some that run for fun, others to get on podiums, some for the personal bests, but all have in common a sense of commitment and motivation. .
Friendship and Social life – Running allows you to meet new people, make friends and develop long-term relationships, where your running group becomes your family.
Accountability and support – An awesome group of runners allows you to maintain a sense of accountability to stay on course to achieving the goal you set.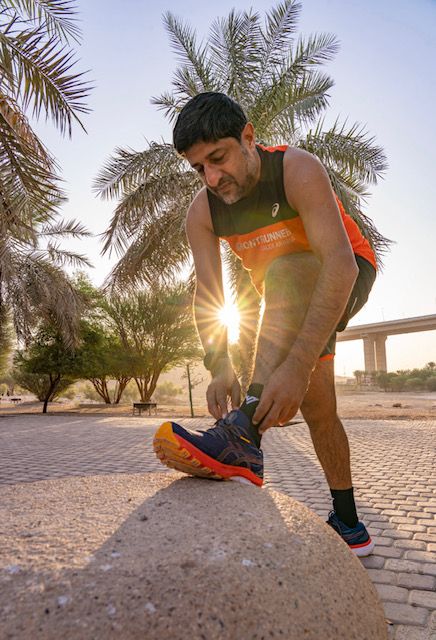 An ambassador, an ASICS FrontRunner I believe that I play an important role in sharing our purpose through active involvement in the running community and encouraging positive change in others, bringing people together, no barriers! And if you want to know what a 'runner's high' feels like – that satisfying sense of achievement and special feeling, -- going for a run allows you to discover it quite easily.
Keep an eye on this page: https://www.asics.com/sa/en-sa/frontrunner/how-to-apply and follow @asicsme @asicsfrontrunner on Instagram for more information on how to join ASICS FrontRunner, as we look into the new year with fresh vigour; more awesome healthier and happy people, and making sure that we never forget how running together makes us feel.
written by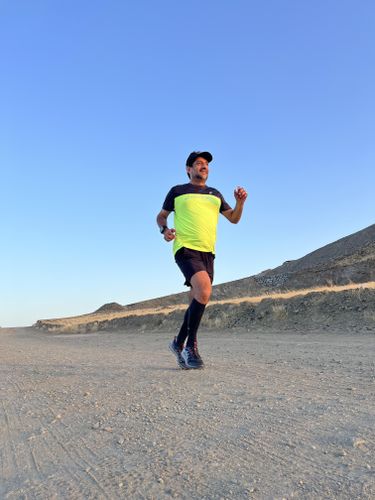 Suleman Mulla
Consultant from Jeddah

Age group: 50
Club: Jeddah Running Community

MY DISCIPLINES