ASICS Middle East welcomes 24 new members in UAE, Qatar, Saudi Arabia and Kuwait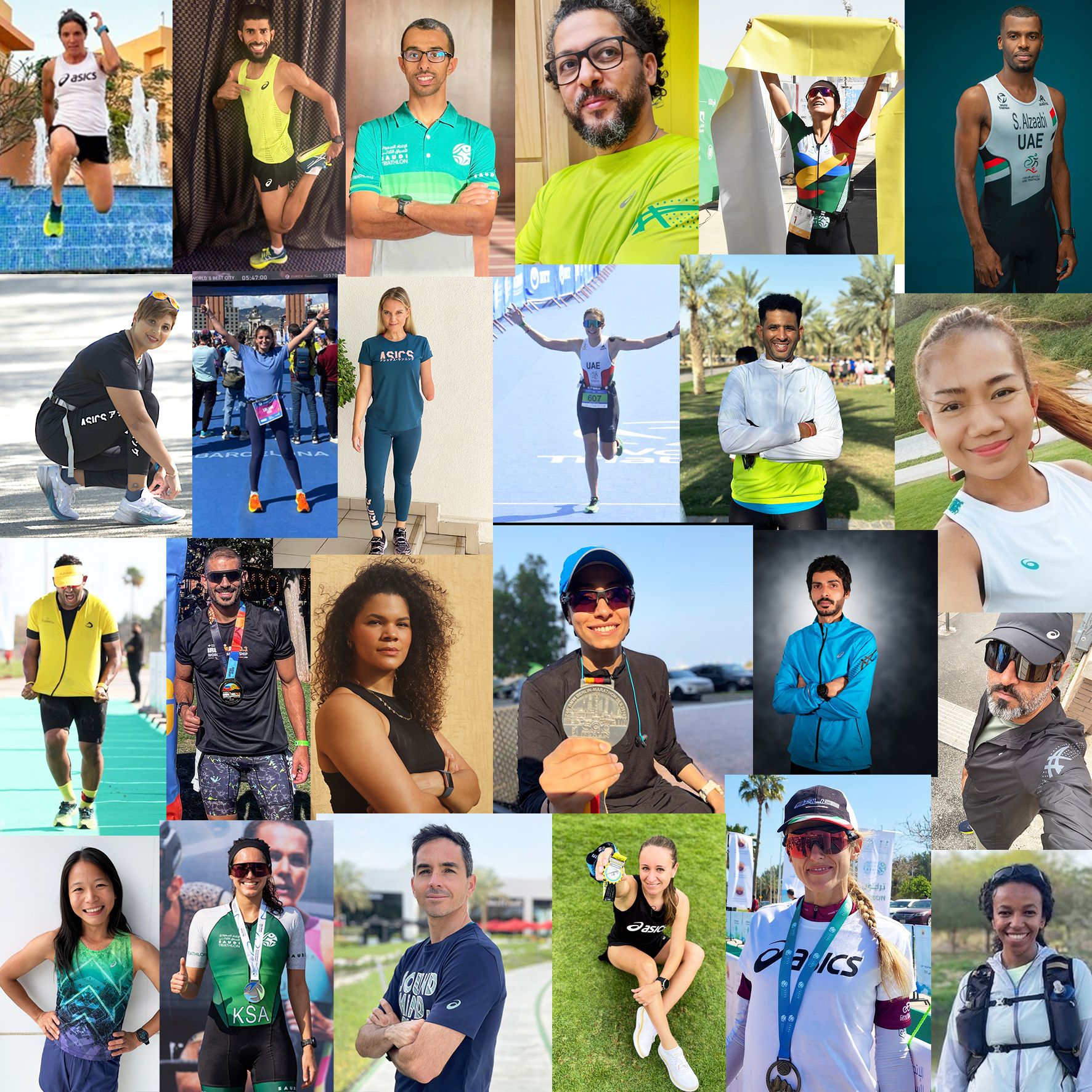 The ASICS FrontRunner Application Phase 2023 is over and we're excited to welcome our new team members. High-profile athletes, sport trailblazers and respected figures from across the Middle East's many running and sports communities are amongst the ASICS FrontRunner members selected for 2023. 
"Having gone through all of the applications, we can say that it wasn't easy to choose. We've been inspired by all of the stories showing how moving with ASICS makes you feel," says ASICS Middle East's marketing manager Ana-Elisa Seixas. "From many hundreds of applicants, we selected 24 new regional members - 12 in Saudi Arabia, 3 in Kuwait, 4 in Qatar and 5 for UAE. Together, we'll share our passion for movement and help everyone achieve A Sound Mind in A Sound Body through running."
The ASICS FrontRunner Middle East team in 2023:

Hana Al Nabulsi, United Arab Emirates
Hana is an Emirati triathlete who represents the UAE triathlon federation and is training towards becoming a professional triathlete. Hana's journey so far has been captured in an inspiring documentary called The Iron Woman. Hana has completed two 70.3 Ironman races - prior to triathlon, "I was a runner," she says. "I am grateful to be joining such a beautiful community."
Jessica Smith, United Arab Emirates
Jessica Smith is an Australian Paralympic Swimmer, public speaker, children's author, and the Chief Operating Officer at 'TOUCH Dubai' - an inclusive talent agency and disability consultancy. Since retiring from her swimming career Jessica has become an internationally recognised advocate for positive body image, diversity & inclusion, and disability awareness. She is the mother of three young children. Jessica's journey into motherhood inspired her to write a series of children's books about disability and acceptance. Jessica's dedication to sport and the community was recognised when she was awarded the Medal of the Order of Australia.
Ka Wai Lee, United Arab Emirates
Ka Wai has combined a demanding career in finance and law in renewable energy with competing in triathlon and running for more than five years. She enjoys a busy lifestyle while staying fit, healthy and happy. "I like to compete in sports, but more than competition, sports is my therapy and boosts my mood. It gives me courage, drive and motivation to face any challenge in whatever I do. In my free time, I enjoy the creative process of being a filmmaker, contemporary pole dancer, writer and pianist."
Saud Al Zaabi, United Arab Emirates
Saud Al Zaabi is an Olympic athlete in the middle distance of 1500 meters and 800 meters and a representative of the UAE national team for triathlon. He placed second in the World Duathlon Championships in Spain 2021, qualified for the World Duathlon Games in America - Birmingham and won second place in the Asian Championship in Malaysia in the Powerman race. He participated in the 2016 Rio de Janeiro Olympics in the 1500 meters and the World Championships in London 2017 for the 800 meters. "With my experience in sports as a player and a coach, I studied and today encourage people to train, practice sports, and compete," says the accomplished athlete.
Tetiana Maltseva, United Arab Emirates
Tetiana, a Ukrainian runner living in Dubai, was recently the overall winner of the Jordan Running Adventure Race, an 185km non-stop self-supported and partially self-navigated race from Petra to Wadi Rum. "Around six years ago I stepped onto a treadmill and since then I can't get enough. I am a marathoner, track jogger, ultra trail runner and OCR athlete. I love challenges and I am always in for any kind of running-related crime."
Tetiana regularly achieves podiums in very challenging ultramarathons. "This sport has given me a lot – I am always in search of interesting races around the world which helps me to travel and see new places, meet new people and combine it with other hobbies that I have – languages, photography and storytelling."
Tomas Perucca, Kuwait
"I've been a triathlete since 2000 and have competed in all categories including elite; the love for sport and the passion for teaching led me to become a coach," says Tomas, whose passion for sport underpins his career and has seen him achieve a Level 2 Course from World Triathlon. "In Kuwait, I continue my activity to develop the sport in the country and help people to achieve their goals. At the Kuwait Triathlon Centre, I'd been working with clients of all ages. My job is not only to teach technical aspects, but to transmit my passion for the sport and to instill values through physical activity." He has completed more than 250 triathlons including 7x 70.3 races. In his spare time, he likes to do kitesurfing "because three sports are not enough."
Omar Al-Filakawy, Kuwait
A professional runner whose achievements include holding the Kuwaiti Record for half-marathon distance, Omar is a Kuwait National Team player and has been an Al-Qadseya Club long distance runner since 1997. Alongside his career as a professional runner, he is a certified running coach and certified international trainer. "Running has been my passion since I was 17 years old, when I decided to take it all the way and make it my life. I started off as a lifestyle runner, until it became my career," he says. "I have run cross-country in Uganda with elite runners, and today I regularly achieve top three to top ten in the races I compete in."
Noura Marafi, Kuwait
A clinical dietitian with 14 years of experience who now works in medical quality management, Noura is the mother of three teenagers and a vocal, inspiring member of her community. "Exercise has been my passion since 2009, after I struggled with my health. I have enjoyed various forms of exercise, from Zumba to Pilates, to Yoga and settled well in Calisthenics and Aerial arts, until I "discovered" running last year. I was amazed how energetic I felt after each run, and the combination of being outdoors and being in the moment with nature was like a dream to me. I experienced the true meaning of the mind-body connection during one of my runs where I just felt completely connected to my mind, to my body and to the exact moment I was in. It was here. It was now. And that's when I knew that running was me."
Buthainah Albaity, Saudi Arabia
"Since my childhood, I've always been a sports enthusiast, taking part in various sports including football, basketball, karate and in the past few years, to manage staying fit while constantly traveling for work, turned towards running and cycling. I'm a financial consultant by profession and in May 2022, God gifted me with my first daughter, Mira. Juggling many roles at the same time – a mother, a wife, and a full time employee, I find staying fit helps in leading a balanced life. I have completed 2 world major marathons (London and Berlin) and my goal is to complete the remaining 4."
Ibrahim Alansare, Saudi Arabia
"My name is Ibrahim Ansari. I am passionate about playing sports in general, and running and triathlon in particular. I like to actively contribute to the sports community in Riyadh, through building the R7 community running team and spreading the culture of running. My goal is to prove to the world that whatever your weight or body shape, if you have enough will, you can achieve the impossible."

Mahmoud Elsebakhy, Saudi Arabia
"I am a husband and father of two children, Mousa and Misk. I am a disciplined person, passionate about sports and grew up playing different sports such as swimming, rowing, crossfit and finally triathlon. My everyday goal is to be a better me, inspiring others and leaving a positive impact. My recent achievements include finishing two Ironman 70.3 races, one in Egypt where I finished 7th in the age group 35-39 and the second one, which was very close to my heart, Utah-St.George World championship 70.3."
Lulwah Ghalib, Saudi Arabia
"Throughout my life, I have always enjoyed being outdoors and participating in activities that are nature based such as hiking and skiing. Running and especially running a marathon have always been a dream and during covid I tried to run however it was a challenge to start by myself. With the help of running communities I was able to achieve my goals and I became determined and focused on running ever since, and I have made it a regular routine and a commitment to myself to always improve my performance as a long distance runner. In my experience, running allowed me as an individual to cancel out the noise and focus on the goal which helps me achieve a sound mind. I can say today that I am very proud to be part of Saudi Arabia's growing sports community."
Sawsan Hassan, Saudi Arabia
"Hey I'm Sawsan and I love life, running and good food. In that order. Since I started running, it have changed my life drastically. It humbled me yet at the same time boosted my self confidence. It taught me that consistency is more important than hard work and with consistency; nothing is impossible. My goal is to inspire more people to go outdoors. Walk, run, or cycle, do you, boo. Just keep moving. Having a sound mind in a sound body is the goal."
Yasmeen Shaaban, Saudi Arabia
Yasmeen is part of the Saudi National Triathlon Team and was the third place winner of the Saudi Games in 2022. "I am so excited to be a part of ASICS," says Yasmeen who recently travelled to Kuwait for the West Asia Triathlon Championships.

Abdulrahman Alghamdi, Saudi Arabia
A fireman for more than 14 years, Abdulrahman saves lives and buildings in his day job. With such a challenging job, he still makes time for sports. "First I got into jogging and became a long-distance runner, then a professional cyclist, then a triathlete and I became a member of the Saudi National Triathlon team. I am interested in educating people about sports and exercise and encouraging others. My personal motto is a healthy mind in a healthy body."
Hannah Meraki, Saudi Arabia
"Movement has been the common thread through my career, originally a dancer and choreographer that moved into health, fitness and mindfulness by becoming a Personal Trainer, Yoga and Pilates teacher. Now I find myself training and taking part in endurance events which I'd always admired but never saw myself truly getting into. I've seen great benefits in moving through different forms, not only from a cross training perspective but each practice has strengthened my body and sharpened my mind to now be ready for the world of endurance events."
Rayan Alkhuwaiter, Saudi Arabia
Rayan is a senior specialist in biomedical science and a passionate cyclist – he is a member of the Riyadh Peloton cycling group. "I am more than excited to start our journey with ASICS FrontRunner," says the runner and cyclist who is also proud to be a member of Triathlon KSA.
Stefania Di Santo, Saudi Arabia
"Hello there! I'm a passionate runner, biker and sporty person. My journey in the running world started as therapy to fight a period of depression. Since I moved to Saudi Arabia, I put more dedication into running with my club. I can't begin to count the benefits of doing sport in a supportive community. I started to encourage new runners, especially women to have a more active life, to create a sporty routine, to give their best. I love running beside them, giving them tips and motivation. When I see the joy in their eyes for accomplishing some goal, my joy is double! I mix my love for running with my passion for road bike. I started a group of Zumba and Pilates for Ladies with the goal to make everyone fall in love with the sport and a healthier and happier version of themselves."
Elisa Grassi, Saudi Arabia
"I am a PhD student in Bioengineering in King Abdullah University of Science and Technology (Saudi Arabia), and a proud triathlete for two years. I have always been deeply interested in the positive effects that movement has on the brain and cognitive functions, and I have been applying this concept since I was a kid. I am a sport enthusiast, I love racing and training in group. I believe exercising in a team improves tremendously your motivation and discipline, helping you to also get the positive health effects of socialization. I train with ASICS running shoes because their cushioning is constantly improved in order to provide the best shock absorption at every step you take."
Hassan Alkaff, Saudi Arabia
Hassan is the founder of the Eastern Walking Team and a respected community leader notable for multiple volunteering work for various causes. He has been awarded the Saudi Volunteer Award for his work with people with special needs, sports and for his participation in health campaigns and initiatives. Alongside his sports passions including running and triathlon, Hassan is a certified PADI rescue diver.
Rossyle Ayuro, Qatar
"Being part of The Desert Roses team composed of 4 Female expats circumnavigating the periphery of Qatar on foot in six days, two years ago was my greatest achievement. With the aim to inspire women and girls to engage in challenging arduous outdoor activities, inspire fellow athletes, foster a sense of sporting community spirit, and explore the beauty of the countryside of Qatar, embedded in me the belief that we can be a catalyst of change in the community in our own little ways. My running started six years ago. I was 32 years old then when I promised myself to lose weight. Without any athletic history I began by walking, jogging, and eventually running. I immersed myself with like-minded people, with the same passion by joining Doha Bay Running club. From there, my running story was born."
Nasser Alrayes, Qatar
"Running was my biggest fear, but in 2015 I decided to do my first run challenge, there where I started running gradually to get in the mood and prepare to do my very first 10km run. Since then running became part of my weekly workout program and added to my annual challenges. When I started running my goal was to add running to my other workouts, but now I am enjoying running more and recently I have been doing many races and challenges in Qatar and abroad. My aim is to compete with myself and beat my personal records. Early 2023, I did my longest distance, which is half a marathon in Qatar & then in March I did another half a marathon in Rome. My future goal is to run a full marathon and do the six largest marathons. Since running is quite a new sport to the local community, my aim is to motivate & encourage others to give it a try by participating in short distance running challenges as it will motivate them to challenge their fears and keep looking for bigger challenges (exactly what happened to me)."

Andrea Stadler, Qatar
"A proud mother of two beautiful daughters, I want to be an inspirational role model that shows everyone that I am human, I am capable, and so are they. My goal is to support everyone around me, and I can do that by modeling how sports helps you become a better version of yourself. This is a journey I have been on since middle school through team sports, as well as individual sports like windsurfing and fencing, later taking on squash, and finally now in triathlons. I have completed over 16 70.3 and now on my way to my fourth full IM. I invite everyone to join me in this journey."
Mo Eraky, Qatar
"Whatever happens in your life keep 'Moving.' This is what I believe in and do every day in my life as Dragon Boat Coach and founder of Baby Steps Marathon club and MOve initiative. Full Time Cool Father, ICF PCC Coach, ATD Master Performance Consultant in shortcut Talent Management Expert. I build my coaching based in 4 pillars: Heart, Spirit, Mind and Body, which is aligned with #SoundMindSoundBody. I started to swim when I was 34 and step by step I became a triathlete. As a cancer survivor with part of my kidney gone and kidney stage 2, I believe that sport enlightens my life. I believe that sport is a lifestyle, and does not need to be for the young or athletic only. Sport can save your life. Remember: Whatever happens in your life keep 'MOving.' The most important rule is to have fun!"