I read a quote a while ago that "..if you're losing faith in human nature, go out and watch a marathon". I love this quote and keep reflecting on its deeper meanings.

As a kid I was frequently found on the school yard playing soccer or basketball with the boys. I loved the playfulness, the joy and the feeling of exhaustion without necessarily understanding the physiological processes involed. Like many kids, running around and being active was all I wanted to do and it made me happy. Later on in life, the sport of lacrosse became my passion, and it literally took my all around the world. I have friends that I have met through lacrosse on all continents and we shared something very special. The comradeship, the competitiveness, the challenges and the goal settings.
Many children grow up playing sports, but unfortunately only few (especially girls) keep it up through their teenage years and early adulthood. I am truly thankful that I did. As life gets tougher and the challenges get harder, I have found that the outlet that physical activity provides has been irreplaceable. Taking a break from work or studying and giving the body a hard work out has been a winning concept. I always get home from a training session with more energy than I left with. This is something I have always 'known' because it is how I have always experienced it. And it is pretty amazing to learn, that this 'feeling' is explained by the birthing of new neurones and increasing blood flow in regions of the brain involved with learning and emotion. I dare say that neither me nor my school friends played soccer and basketball so that we would perform better academically, but believing the research we probably did!
I started a new chapter of life three years ago when I moved back to Sweden after 15 years abroad. A new city, a new workplace, new colleagues and new friends. I was looking to find balance in life and I was specifically looking to find a sports community where I would belong. It took my roughly six months before i found running, initially by coincidence. I had never considered "running" as a sport in itself but entered a half marathon race to find motivation to get back into fitness. The rest is history. Since then I have run more than forty races. I love the atmosphere, the community and the comradeship. I have run on tarmac and in the forrest. I have run alone, with friends and with groups of strangers. Running has taken me through the Atlas mountains, to the top of volcanos on the Canary Islands, around the Mont Blanc and round and round the local track course. I run in sunshine, in snow, on sand and in the rain. It is strange to think that something so simple would fill all of those things I was looking for - the comradeship, the competitiveness, the challenges and the goal settings. The playfulness, the joy, and the feeling of exhaustion.
I am so thrilled to have become a part of the Asics Family as an ASICS FrontRunner, with the motto "Sound Mind Sound Body". Sound Mind Sound Body is something I strive for and something that running has taught me.
In my everyday work as a doctor I attempt to promote the benefits of leading an active lifestyle. My dream and ambition is to enable all young people to find the joy in being active and proving them with the tools to do so.

Watch. This. Space. 

#ASICSFrontRunnerSweden #ASICSFrontRunner #ASICSFrontRunner2020 #soundbodysoundmind #löparlotta #runningdoc #rörelseglädje #löparglädje #FlyteFoam
skriven av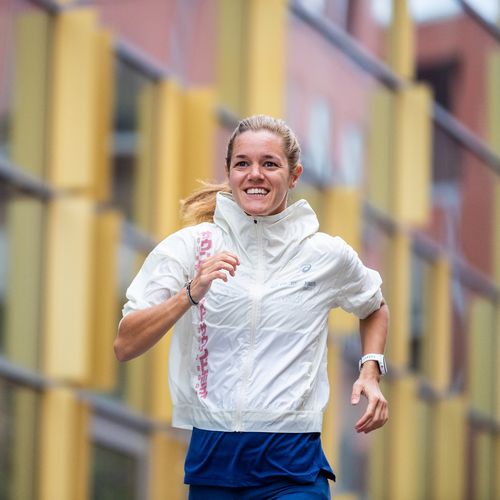 Mina discipliner