So last Friday the 2nd of nov i stood on the startline to Kullamannen 100miles with my teammates Patrick and Jawad! Our first 100miles ever. We were so excited and nervous at the same time, so many thoughts were going through our heads!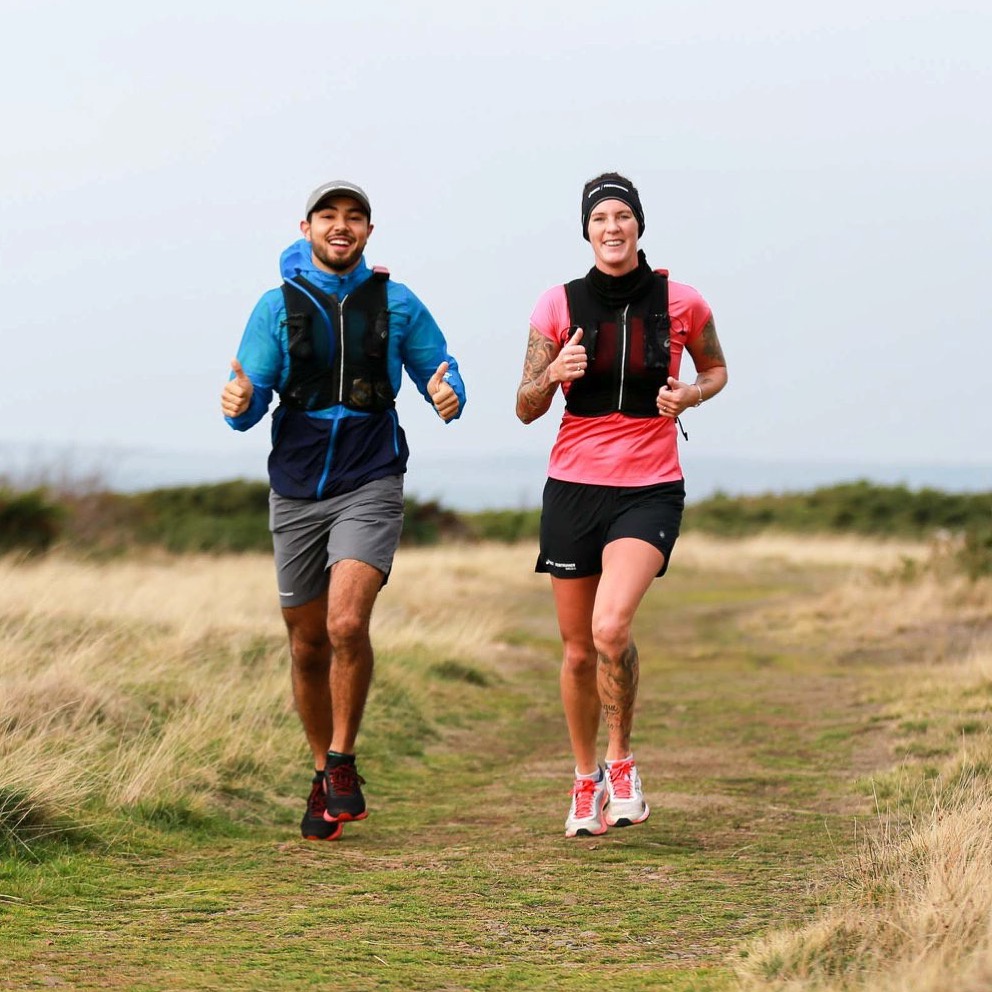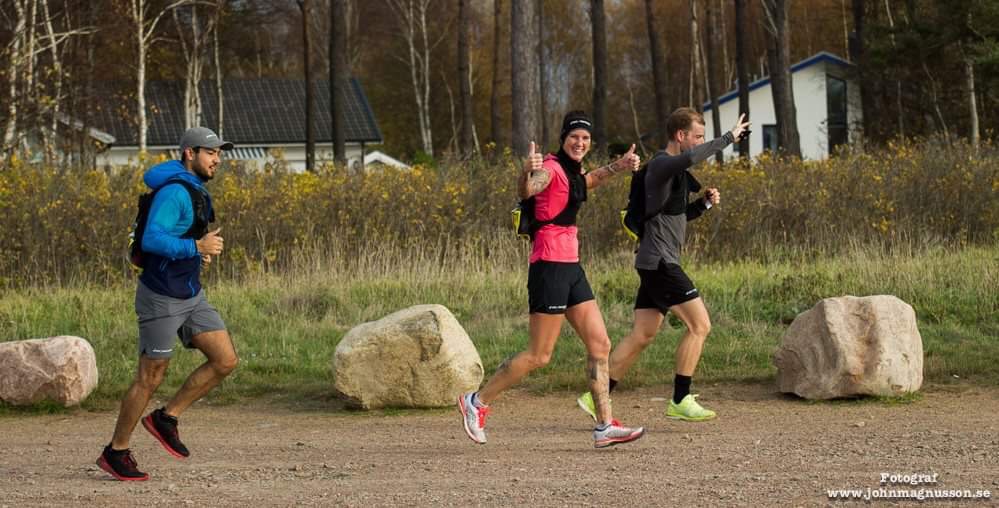 So the day before the race, Thursday Jawad and Patrick drove down from Stockholm and Gothenburg to stay at my house! We ate cake, pizza and i showed them around Bjäre and some of the stretches we where running the next day! 
We have been talking about this for the last 3 weeks everyday and now it was finally only one more sleep left. We were beyond excited talked about our plan for the race, what pace? How often to eat and drink? Double check what we had in the dropbags u name it! Reminding us that our main goal was just to finish it and have a awesome time and enjoy the surroundings!
We went to bed early but ofcourse we didn't sleep much, I had all kind of weird stress dreams ;) But woke up early before the alarm rang and was super excited and full off beans it's race day!
My dad picked us up and drove us there to Hotel Skansen in Båstad where we picked up our bibs and dropped of our dropbags.
Now my nerves where on full speed but the good thing with races is that u meet a lot of your friends and make new ones so that keeps u busy! I also meet a lot of old colleagues that cheered me on and wished me well witch made me want to do this even more! (if i got a dollar every time someone said "u guys are crazy"that morning I would be rich now haha)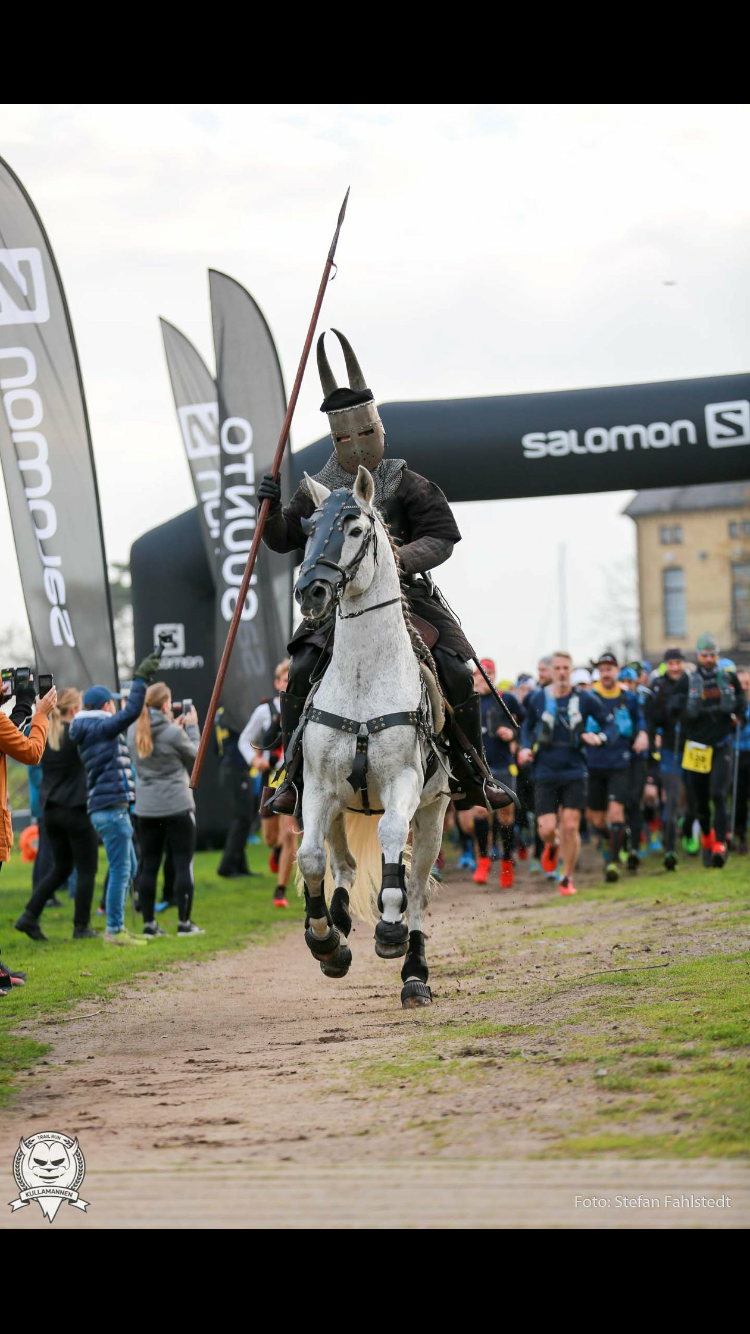 Of to the start line woohoo it's happening, i saw  kullamannen on his beautiful white horse the music was playing I was ready. I waved to everyone so many locals there and i Feelt so happy then the countdown started 10,9,8,7..... and of we went. So weird not to just take of in a million miles an hour we really had to try hard to stick to our plan and pace!
We ran along the ocean with views of seals resting on rocks along the beach, of course i couldn't help my self shouting out "look at all the seals" which some really appreciated! 
We continued up past my work then we went on to skåneleden that leads up to Hovshallar! A really nice mixed trail trough forrests , paddocks and cliffs. We kept having to remind us selfs to keep a slower pace but that's so hard when people pass u! But Jawad did a good job telling us to slow down. We past hovshallar where my college John was standing ready to film and take photos of us, lots of smiles and cheers!
We continued for the next 20km in a good pace ate gels and drank water. At 30km we came to first water station at Glimminge,filled up our water bottles and shared a banana! Of we went excited that it was only 20km left to the big pit stop where there would be food yes I was getting abit hungry. Of we went still pretty flat no hills and the running felt good we laught and talked and had a good time, at 45km we celebrated Jawad distans record he had just beaten his 44km he'd done before!
With only 1 1/2 km left to the 50km Toru came running behind us another local ultrarunner that I know from before, we chatted and laughed!
At 50km we ate and drank talked to my family changed shoes and socks then we left to keep our schedule! The next 5km was the best ones during the whole race we had such a good time,so weird during a race  haha 
It started to get dark and we ran of in the forrest and there the best suprise waited, in the middle of a nowhere one of our teammates Fredrick waited for us to cheer us on:) That gave us so much energy and warmed our hearts! We left him and the next 20-30 km was mixed with some power walks and running.
Some frustration when we came in to some massive sheep/cow paddocks where it was hard to find your way,many ran the wrong way!
But finally we found the paths and we reminded us selfs that it's not so far left to mölle and keept going! Of we ran trough the cutest little villages by the ocean. People where so amazing they stuck their heads out through  their windows and cheered us on, it was pitch black but they could se our headlights! 
We got to the last water station before we started "dödens Zon" filled up our water and took of! We got to kullaberg and now the technical trail started the first thing we meet was the new massive hill (instead of running on the rocks to nimis) we had to use a rope to get up it was insane but nice to use your arms abit.
But omg the hills never ended as soon as u where up, there was more and more! And with up hills there's downhills and yes this is where my trouble started, my left knee started to hurt on the backside and it did not feel good. I pushed on and thought or hoped it will go away but in every down hill the pain grew bigger, i found a long branch that i tried to support my self on but no it was to late. I taught if i only get to Mölle i can fix it there I'm mean omg I feel so good otherwise! We got up to the lighthouse and by now I could hardly walk even where it was flat!
With only 4km left down there i pushed on but it was no easy four km it was climbing down on rocks/cliffs, my heart sank as i knew it's no way I'm gonna be able to run 3 more laps up and down the hills here of "dödens Zon" i started crying in frustration! Patrick had to help me down the last climb i could not support any weight on that leg anymore. 
We got to Grand hotell in Mölle and we stepped in and they applauded us, i was limping in and  the fantastic,wonderful volunteers and workers for the race tried to help me and give me advice! I was so devastated and disappointed.
But after a couple of hours of desperation to get better i did the decision to dnf( first time ever) if i continued i might have made it but with the cost of hurting my knee so bad and then not be able to run or race for months or year! So the race ended at 105km!
Now I know i did the right decision because I'm already getting better still resting and recovering so it will be 100%! 
I'm alread planning new 100miles races for next year, because yes I'm in LOVE i have found my thing 100mile races, it was absolutely awesome and amazing and i know I've got the right head for it i will make it! I learned so much during this race that i will take with me to my next one. And YES I will be back for a revanch to kullamannen 100miles next year:)
Thanks for an amazing event and thanks to my fantastic teammates Patrick and Jawad that will be joining me for the next races!
skriven av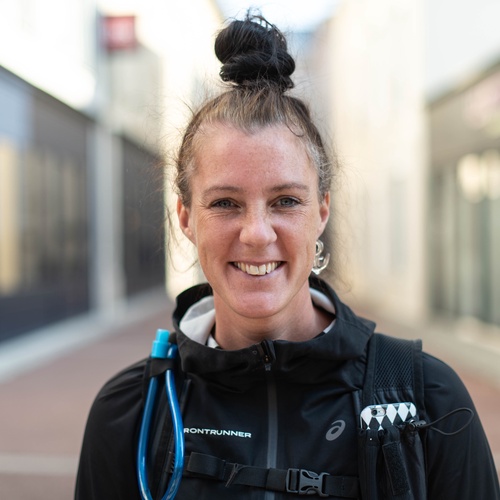 Mina discipliner