If you're competitive but cannot compete, run cus its fun!
Hi again,
So, the summer has come to an end and I had to throw my workout plan in the trash bin. Life happened and I tried and I tried and I tried do keep up with my plan but my body just shut down... I had to give in...

Long story short, this year has been the most challenging year in my life. Ive lost 3 family members, one of them being my father.. It all came like a thunder on a clear sky. I thought I could run away from it, but this summer it hit me real hard. Ive always had running and workouts as my place of peace, giving me energy. But all of a sudden I couldn't run, my heartbeat was all over the place and I got all dissy.. And when I did strength workouts I blacked out.. falling with the weights.. I couldn't push through and I couldn't stop.. It felt like I was trapped in the middle... Cus I just couldn't accept that my body and mind screamed for recovery. My hormonal cycle got messed up, I lost my period and finally I got diagnosed with a burn-out... It took me another 3 weeks to accept it. I hit the wall.. I crashed..
Now its 9 months since my father and my grandmother died and I'm taking small steps towards recovery, from what I taught I could run away from. 
But I've learned a lot. Before all this happened I was used to workout about 10 hours a week, running at least 40 k per week. Now, Im happy if Ive tracked 2 hours of workout in one week. I feel so much better since I accepted that I am where I am and I will grow strong again. But I also have to admit that I almost every day look at images from last season when I was in my life's form, I so much want to be in that body again...
One of the best things that I now can say with the whole of my heart, "I run because its FUN!" So even though Im still going through my most difficult period in my life, I smile every day, Im happy for every running session that I can do and Im so grateful for this amazing community, the frontrunner family, the most beautiful and supportive team <3 
Thank you for reading <3 Lets smile and Run cus its fun! 
skriven av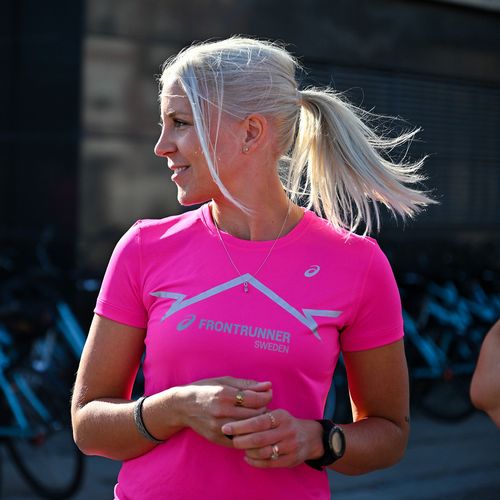 Mina discipliner