"When it feels scary to jump, that's exactly when you jump, otherwise you end up staying in the same place your whole life"
Living more than 5000 km from your family is not easy.
I moved to Saudi Arabia almost 4 years ago, to pursue my Master and PhD degrees in Biomedical Engineering in King Abdullah University of Science and Technology (KAUST). I was scared, yes, but I owed this to the little girl who promised herself she would have done anything to make an impact on cancer research.
I flew to KSA in July 2019, 10 days after winning the Spartan European Championship (Sprint distance), leaving an amazing group I was training with for 1 year, that became my second family. I thought I would have never found a group like that in KSA, I would have never found a sport that could have given me the joy and satisfaction that obstacle course racing gave me.
Therefore, ­I started my busy life, studying and working in the laboratory, running everyday but without a training plan, just to free my mind and my body from the stresses of work. Until one day, after a half marathon, I started having a weird intense pain to my left heel: the doctors told me that it was plantar fasciitis and I had to stop running for at least 2 months, which for me translated into "panic".
Running was the only way for me to really feel free, alive, and grounded during the day.
I decided to buy a road bike for the first time in my life.
I never tried road biking before and at the beginning I was really scared to fall. After some practice, I started going faster. Touching 40 km/h for the first time felt like flying, I fell in love with it.
After 3 months I managed to run again, and some friends told me that there would have been a triathlon race soon in Jeddah. Triathlon consists of 3 sports: swimming, cycling, and running. I was really missing the feeling of racing, but there was only one problem: I had a trauma in the water when I was 4 years old that made me literally hate swimming. However, I was able to swim breaststroke, so I tried to cover the sprint distance of the race in the swimming pool (750 meters) swimming breaststroke. Mission accomplished; I didn't drown.
After that day I practiced swimming, cycling, and running for a while, always without a training plan, until the day of the race. I went there with the aim of just finishing it, terrified that all the other participants would have been way faster than me and I would have been the last one. I really did some mental work on myself to acknowledge that it didn't matter if everyone would have been faster than me, the race was just with myself and my fear of swimming.
With my great surprise, I arrived first among the women. And even better: I met a lot of people with the same love for sports.
After that day, I have been more and more passionate about triathlon.
I started competing also in running races (half marathons and 10k mostly) and getting to know the amazing community that organizes and participates to these events, with excitement and commitment.
I met people who are my close friends now, kindhearted human beings who became my second family in a Country more than 5000 km far from my home country.
I think sport brings people together in a way that only sport can do. It doesn't really matter if it's cycling, swimming, running or anything else, there is something in working hard together for a goal, being passionate together, sweating, suffering together, that brings people close to each other.
And it doesn't matter the color of your skin, your passport, or your religion, what really matters is you are not going to give up.
كَتبه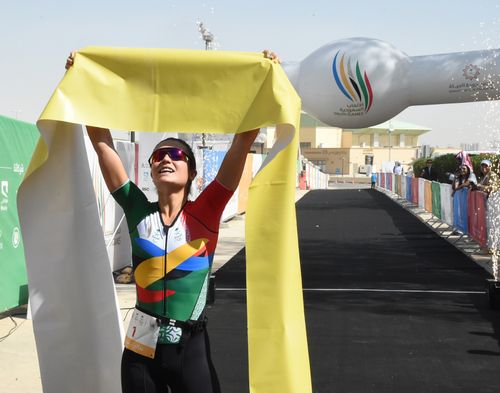 تخصصاتي